The government in the southern Indian state of Tamil Nadu ordered the detention of film director and 'Naam Thamizhar' party founder Sebastian Seeman under the National Security Act (NSA) for allegedly making inflammatory speeches against Sri Lanka.
He was arrested on July 12 for a speech he made while leading a protest against the Lankan Navy's alleged attacks on Tamil Nadu fishermen. He was earlier detained under the same act on February 28, 2009 for his open support to the banned LTTE. This detention means that Mr Seeman would have to serve one-year in jail.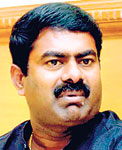 Seeman
On July 10, police had slapped cases against Mr Seeman and arrested him as he was entering the Chennai Press Club to brief media on the continued killings of Indian fishermen by Lankan forces. He was lodged at Vellore prison.
His application for release on bail was rejected yesterday by the Principal Sessions Court. Dismissing his plea Sessions Judge, P Devadoss said Mr Seeman, in his speech, had referred to Sinhalese students and that seemed to cause danger to their lives.
Mr Seeman had been detained in February 2009 under the NSA for his open support to the LTTE. and was lodged in Puducherry central prison, on charges of sedition for making pro-LTTE speeches at a public meeting in the union territory.
Police have registered a case against him. Since he had also committed a similar offence at Puducherry, he was arrested in Tirunelveli and handed over to the Puducherry police, which formally arrested him for his provocative address in the union territory.