Former Indian Foreign Minister Yashwant Sinha will deliver the 13th Dudley Senanayake memorial oration at 6pm on Thursday (July 22) in Colombo. The oration on 'globalization and us', marking the 99th birth anniversary of former Prime Minister Dudley Senanayake, will take place at the BMICH committee room.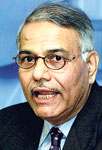 Yashwant Sinha
.The Dudley Senanayake Memorial Foundation and the Friedrich Naumann Stiftung are organising the event. Mr Sinha held the cabinet portfolios of finance and external affairs under Prime Ministers Chandra Shekhar and Atal Bihari Vajapee in successive BJP governments in India.
Mr. Sinha, who obtained a master's degree in political science in 1958, has an impressive record which includes a period of teaching political science at the University of Patna. He spent 24 years holding many important posts in the Indian Administrative Service before entering politics.
His political career began in 1984, when he resigned from the Indian Administrative Service and joined the Janata party. Mr Sinha was appointed the general secretary of the party in 1986 and was elected a member of the Rajya Sabha in 1988.
He was appointed National spokesman of the Bharatiya Janata Party in 1996 and as Finance Minister in 1998. He was also the foreign minister till 2004, when there was a change of government.
He was also the first finance minister to break the 53-year-old tradition of presenting the Indian budget at 5pm local time. Mr. Sinha has written a comprehensive account of his years as finance minister entitled 'Confessions of a Swadeshi Reformer'.
Mr. Senanayake was Sri Lanka's second prime minister and served as premier on two more occasions between March 21, 1960 and July 21, 1960 and between March 27, 1965 and May 29, 1970.