"I am watching the football match. You also watch." This was the last SMS sent by Sri Lankan sales manager Ramaraja Krishnaraja to his daughters in Wattala, a few minutes before falling victim to a bomb blast in Uganda last Sunday.
The SMS arrived on Sunday night while Krishnaraja's daughters, Niroshini and Kirubashini, were fast asleep. The dad, 49, lost his life while watching the World Cup soccer final on a wide screen at a restaurant.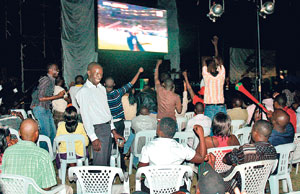 Football fans enjoy themselves at the ill-fated restaurant a few minutes before the blast. AFP
He was among the 76 people killed in the twin bombings in Kampala. When the daughters saw the SMS on Monday morning, they did not realise that it was going to be the last message from their father.
And, the sad news reached them around 2pm that day.
The grieving family in Wattala is struggling to come to grips with the fact that there won't be anymore phone calls from Uganda.
"We also need not fight anymore to pick up the receiver when the phone rings," said the daughters, who eagerly awaited their dad's return home. Krishnaraja, who left Uganda on October 10, 2008, was planning to return home in January. But fate had other plans…
Friends invited him to the Ethiopian Village restaurant to watch the Fifa World Cup final, a visit that proved fatal. He had called home the previous day and advised his daughters to study well. That was his dream.
Krishnaraja had dedicated his life for his girls. He had gone to Uganda to ensure a bright future for them. While in Sri Lanka, he took them to school every morning and also to private tuition classes, instilling wonderful dreams and hopes in them.
The studious girls say they missed their dad very much when their Advanced Level and Ordinary Level results were released last year. His absence was a painful moment as they had received remarkable grades and their father was not in Sri Lanka to appreciate their achievements.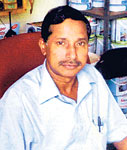 Krishnaraja ... blast victim
"It was sad that he was not present at that time. We called him up and told him about our grades. He was very happy," said Kirubashini Krishnaraja, now an Advance Level student. Her elder sister Niroshini is reading for her external degree in Business Administration at the University of Sri Jayawardenapura.
They remember their last outing together when they accompanied their parents to watch the Tamil film, 'Dhaam Dhoom' together at Cine City.
"He liked Tamil movies. He used to watch all the movies that come on TV." Another memory that the girls cherish is going to see cricket matches along with their father. Krishnaraja always books three seats so that the daughters can also join him at major cricket matches in Colombo.
A sports enthusiast to the core, he used to watch football and cricket matches till late night even at home. Krishnaraja also excelled in sports activities in his school days. "He represented his school at athletic and trekking events," Logeshwary says.
Krishnaraja, born and brought up in Kurunagela, arrived in Colombo 25 years ago in search of a job.
He settled in Colombo and built his career in the city, before leaving for Uganda to work at Ashoka International Private Limited.