Young people hoping to get drugs-substitute medicines over the counter will be in for a disappointment – following steps to crack down on pharmacies that sell medicinal drugs to under-age persons or sell medicinal drugs without prescriptions.
The Cosmetics Devices and Drugs Control Authority intends to revise its regulations and amend its 1980 Cosmetic Devices and Drugs Act.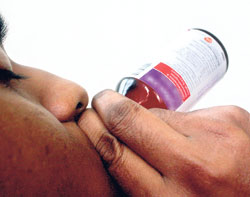 Down in one gulp – the preferred way with teens wanting a quick fix.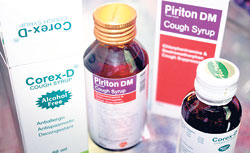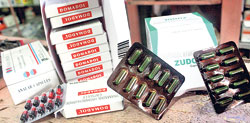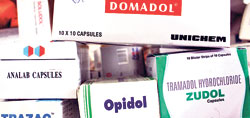 Cough syrups are among the favoured substances used by school-goers.
"We will tighten the laws and prohibit pharmacies from selling medicianal drugs to school-goers, even if they produce prescriptions," Cosmetics Devices and Drugs Control Authority director Dr. Hemantha Beneragama told the Sunday Times.
Last week, nine students from a school in Gampaha were taken into custody for using a painkiller, Tramadol, as a substitute for drugs. In another case of teens experimenting with medicinal drugs, three students from another school were hospitalised after taking Trifluoperazine, a drug used for psychotic disorders.
In a third case, the Ganemulla Police arrested a man last week for selling students Trifluoperazine, under the name "Nilla Soya" (in search of bliss), claiming it boosted memory power. Painkillers and cough syrups are widely used by teenagers. Pharmacies have been found to be selling these items to young people over the counter, without a prescription.
Dr. Beneragama said the Cosmetics Devices and Drugs Control Authority has instructed provincial police, health, food and drug officials to conduct "surprise" raids on pharmacies islandwide. "We have also asked our junior officers to visit pharmacies and check whether medicinal drugs, are being sold without prescriptions," he said. "The cough syrup Corex-D is widely used by teens, and even adults, as a drug substitute."
According to Dr. Beneragama, officers from the authority have inspected 112 pharmacies up to July this year, and filed cases against 80 of them. "There are more than 3,000 pharmacies in the country, and it is hard to monitor all of them all the time. When a teenager walks into a pharmacy and asks for Tramadol, the pharmacists know very well what it is for," he said.
The Cosmetics Devices and Drugs Control Authority is also cracking down on doctors or quacks who write out prescriptions for young people. "Cough syrups and painkillers are prescription medicines and can be ordered only by a registered medical practitioner. Qualified and experienced pharmacists should be able to spot a fake prescription," he said.
Dr. Beneragama said the authority wanted several brands of cough syrup to be available only at Osu Sala outlets, but this was not possible because of the limited number of outlets. Those who get into the habit of using medicinal drugs early in life could become addicted to narcotics, tobacco and alcohol in later life, according to National Dangerous Drugs Control Board (NDDCB) director, K. Gamage.
At present, narcotics, tobacco and alcohol addicts can volunteer for treatment and rehabilitation. The NDDCB wants to amend the Drug Dependent Persons (Treatment and Rehabilitation) Act (No. 54, 2007), to make it compulsory for identified addicts to undergo residential treatment.
Pharmacies operating without licences are encouraging the habit among senior students."

K. Gamage, National, Dangerous Drugs Control Board director
Treatment includes detoxification; psychotherapy, counselling; physical exercise; indoor and outdoor activities, and education in healthy lifestyles. Mr. Gamage of the NDDCB said young people pick up the drugs habit from their peers.
"Peer pressure is especially high among the senior students, and drug manufacturers are only encouraging the habit," Mr. Gamage said. "School-goers tend to go for medicinal drugs. Pharmacies operating without licences are encouraging the trend. Stern legal action will be taken against these pharmacies."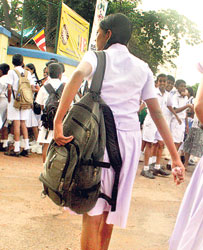 Schoolbags are checked for drugs.
Mr. Gamage said schools should train teachers as counsellors to combat the drugs trend among teens. "We are training teachers and conducting awareness programmes in schools. The problem is especially serious in urban schools.
"Parents should also be helping. They should have a close relationship with their children. We have noticed that the students who end up as drug addicts are exposed to dangerous substances at homes."
A qualified pharmacist told the Sunday Times said that some students even threaten pharmacies if they refused to give these cough syrups over the counter.
"Many of the young addicts use the same prescription over and over again," the pharmacist said. "Some swallow the contents of a bottle in one gulp as soon as they step outside the pharmacy. They are that desperate."
GAMPAHA Students 'high' on substance abuse end up in hospital and In police custody
Several students in the Gampaha district have been taken into police custody for using medicinal drugs as a substitute for narcotics.
Dr. M. Sivasubramaniam, Consultant Judicial Medical Officer of the Gampaha Hospital, told the Sunday Times that the students had been taking Stelazine (Trifluoperazine), which is used for psychotic disorders. Stelazine is a prescription drug. Some students admitted to taking six to seven pills at a time.

Dr. M. Sivasubramaniam
The students had developed complications, including vomiting and severe dizziness, while others had fallen into a deep sleep lasting more than 24 hours. A senior officer of the Gampaha Police said several arrests were made in Ganemulla, Kadawatha and Belummahara with regard to the sale of drugs without prescriptions to schoolchildren.
"We found that some pharmacies have been selling drugs without prescriptions, and even giving drugs free to students. We have identified several pharmacies in these areas, and we are taking legal action," he said.
The students in police custody are in the 16-to-18 years age group, the police official said. Gampaha resident G. D. Nandasena is the father of three children who attend one of the schools that have been identified as having medicinal drug users among the senior students.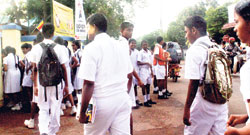 Students in Gampaha have been hospitalised after overdosing on medicines. Gampaha schools are on high alert.
"Parents have to be alert," he said. "They should know what their children are doing, especially after school hours. Some the young drug users are children from good families. This is a serious problem."
Malani Samarakoon, principal of the school where several students had to be hospitalised for drug use, said parents should be alert to behavioural changes in their children.
"Teachers are with their students for only 40 minutes at a time. They cannot be expected to notice strange behaviour in the duration of a single classroom period," the principal said.
Ms. Samarakoon said awareness programmes, with the participation of Police officials and medical officers, were being conducted in all Gampaha schools.