A Dengue Strike Force will carry out house-to-house visits looking for locations of mosquito breeding grounds and institute legal action if they find such grounds within those premises, a Health Ministry official said.
The measure has come in the wake of an increasing number of dengue deaths and dengue patients. So far 20,647 persons have been affected by dengue this year with at least 150 deaths reported.
Police and Civil Defence Force personnel, with the approval of the Defence Ministry, will back the task force operations.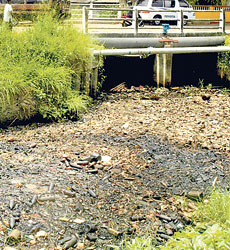 Garbage under a bridge in Bloemendhal. Pic by Saman Kariyawasam
People could face fines ranging from Rs. 1,000 to Rs. 50,000, a six months rigorous imprisonment or a five-year jail term, under the existing Prevention of Mosquito Breeding Act.
The Strike Force, which is on the same lines as the campaign carried out in Cuba has been activated under a programme drawn out by the inter-ministerial committee which includes the Health, Local Government, Defence, Environment and Public Administration Ministries.
As part of the anti-dengue campaign the Central Environmental Authority (CEA) has been directed by the inter-ministerial committee to institute legal action against local government institutions which fail to maintain proper garbage disposal systems.
In a related development the Defence Ministry has directed the Police stations to prevent the spread of mosquitoes by properly stocking items meant for production in court cases. They include barrels, tyres, and other items which retain water.
Similar instructions have gone to courts islandwide as a large amount of court production items are stored in the open. Security Force camps also have been directed to carry out their own cleaning campaigns.