Western attire has been outlawed for this year's Nallur Festival in the Jaffna Peninsula and pilgrims have been told that only the traditional saree or long skirt and full blouse for women and the verti for men will be allowed.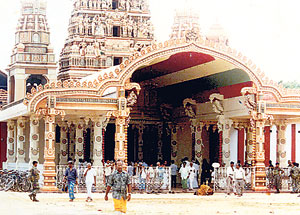 Nallur Kovil comes up with a dress code
Jaffna Mayor and festival's Organizing Committee chairperson Yogeswari Patkunarajah told the Sunday Times the decision was taken since a large number of expatriate Tamils were visiting the peninsula in Western attire that was not in keeping with the Tamil culture of the area.
"Skirts will be allowed provided they are way down to ankle length and blouses that cover the entire upper part of the body," Ms. Patkunarajah said. The popular churidar (Salvars) worn by women had also been banned, she said.
The dress code will be communicated through notices in Sinhala, Tamil and English to bring about awareness among pilgrims from the south and other parts of the country.
The festival which is likely to attract hundreds of thousands of people from all parts of the country and overseas begins on August 15 and will go on for 25 days.