St Peter's College Bambalapitiya will host their traditional rivals St. Joseph's College Colombo for the 40th annual encounter on July 8 (Thursday) at Reid Avenue. Kick off will be at 4.00 P.M. This match is one of the oldest rugby encounters in the country besides Bradby Shield and Royal-Tho mian. The motivation is the Rev.Fr. Basil Wiratunga Shield which was donated by the Old Boys Union of St. Peter's College in 1968, in memory of their Late Rector/Principal.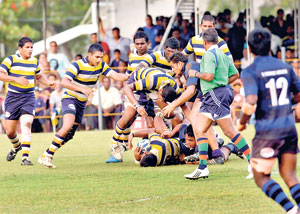 Peterites in action earlier this season
The tally stands well in favour of the Petes with 27 wins to the Josephians 8. The Peterites retained the Shield last year under centre Dilshan Paul with a 41-05 win whilst last Josephian victory was recorded way back in 1999 under No. 08 Laksitha Gunaratne. Four matches - in 1969, 1980, 1992 and 2004 - have ended in draws.
The Petes have the honour of recording the biggest win in the series when they completely demolished the Josephians (101/05) in 2007 Under Scrum Half Ranuka Jayasinghe. The Peterites who boast of a proud history of 75 years of rugby since 1932 were not only crowned as the Undisputed Champions in 2007 but remained unbeaten throughout the season.
Incidentally Joe-Pete rugby series dates back to 1955 (The year rugby was introduced to the Darley Road School) and the first victory was recorded by the Bambalapitiya School. The Josephians first tasted victory under C.I. Rajaratnam (13-03) at Darley Road. The Darley Road school went on to record a hat-trick of victories from 1960 to 62 under Brian Paul, Cuthbert Charles and lineout artiste Hiranjan Perera, respectively.
It was until 1963 the match was played as an occasion for the Old Boys to gather fellowship and in the following year, that was in 1964, a Trophy was introduced by an Old Pete Named Carlo Martyn and it was played for the Carlo Martyn Trophy until the present Wiratunga Shield was introduced in 1968. Josephians has the distinct honour in winning the Trophy in the inaugural year under late Shiraz Fernando on the back of a hat-trick of tries by that Star Sportsman Brian Obeysekera who is presently the live-wire of the St. Joseph's College Sports Council. The biggest Josephian victory was recorded under Laksitha Gunaratne (27/03) in 1999.
This season St. Peter's have been crowned as the Division One Group A undisputed champions and rivals Josephians have bagged the B Division title. However the Petes with a superior three-quarter line are favoured to win and at the same time the bulldozing Josephian forwards are bound to give a torrid time to high riding Bambalapitiya Lads.