Royal asserted their dominance and undoubted supremacy in the second half to score a smashing 34 points (3 goals, 2 tries, 1 penalty) to 17 (1 goal, 2 tries) win over Trinity in the 66th Bradby Shield encounter at Bogambara yesterday.
After a first half which was more evenly contested, and at the end of which Trinity led 17-12 and were having visions of a victory, the Royalists ran amok in the second half to churn in 22 points as against nothing by the hosts.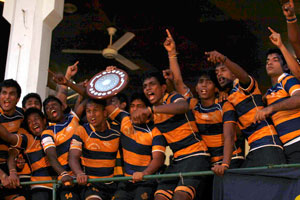 Royal with the Bradby Shield - A familiar sight
.
It would be true to say that Trinity allowed themselves to be dragged into Royal's game plan which was to play with the forwards. Trinity failed to capitalize on their strength which lay in the back division. There was a very low-key start to the game and after seven minutes Jamaldeen missed a 40 metre penalty plumb in front, awarded because the ball was not released after the tackle. Royal employed the rolling maul time and again and did so very successfully. The Trinity backs made one threatening move, with full back Kanil Seneviratne linking up, but they tended to run across and didn't go the distance.
Trinity was making waves at this stage and little power-house Akila Dissanaike - fed a pass by Seneviratne, dashed 15 yards along the touch line and scored. Ramanayake's conversion was a good one, with the ball curling in at the right upright. (Trinity 7-0).
Royal forced their way into the Trinity 22. The ball came out from a ruck and winger Hilmi Jamaldeen scored near the right corner flag. Attygalle failed to convert.
Next came Jamaldeen's second try and, quite possibly, the try of the match. Royal started a move well inside their territory and Jamaldeen streaked along the line. When challenged, he chipped, collected despite the slightly awkward bounce and sped through unchallenged. Jamaldeen (the fly half) converted for Royal to lead 12-7.
Royal line on the move at Bogambara yesterday. Pic by J.Weerasekera
Awarded a penalty for holding on, Armstrong sent it down the line and Akila Dissanayake went over for his second try. This went unconverted (12-12). Good three-quarter play took the ball a few yards from Royal's goal line. The forwards took over and prop Mohamed Nizmi touched down for an unconverted try (17-12). None would have guessed at this stage that this was going to be Trinity's last scoring effort.
Early in the second half, Shanon Armstrong broke from scrums twice on the blind side, but he was too well marked to make an impression. Scrum half Deen Cassim, an eager beaver, who enjoyed a good game, fell on the ball in his territory to stall a possible try.
Royal were attacking furiously for the equalizer. The forwards rush was halted, but the ball was switched from right to left and full back Chamara Dabare scored far left. Arshad Jamaldeen made a superb conversion to atone for his failed attempt at a highly unlikely 48 metre penalty (Royal 19-17). Shortly after this, Jamaldeen slotted across a simple 20 metre penalty to enlarge Royal's lead.
Number eight Shehan Pathirana was next on the board, finishing off a combined move by the forwards and backs. Receiving a pass 20 metres out, he ran across in front of the advancing, yet dispirited, Trinity defence, showing a good turn of speed. Jamaldeen converted and Royal led 29-17.
By now, the Trinitians had as good as kissed the Bradby Shield goodbye and were veritable sitting ducks. Centre Mushin Faleel put the icing on the cake for the Reid Avenue boys as he ran in the last try.
Trinity's positional play left a lot to be desired. In addition, they were extremely inadequate at getting clean ball from their scrums and line outs. They lost possession in second and third phase play by trying to counter the Royal forwards who were way ahead of them. Had the ball been sent out of the back division, it would have increased Trinity's chances.
The 126 points scored in the two legs make this the highest scoring Bradby Shield encounter. Royal stretched their slender one point lead to walk away with the shield by a margin of 18 points.
Trinity's under 18 team beat their counterparts 24-13. But Royal had done enough in the first leg to win the C.N. Simithrarachchi Trophy overall.
Referee Dilroy Fernando.
U 14 Royal 7-0; U 16 Trinity 20-0. Trinity's 1972 rugby captain Athula Unantenne was the chief guest and gave away the Bradby Shield to Royal.