Young tennis star Sharmal Dissanayake has achieved a rare feat by being selected to represent the Asian Team at the ITF 14 years and under age category at the ITF European Tour that is scheduled to begin on July 1.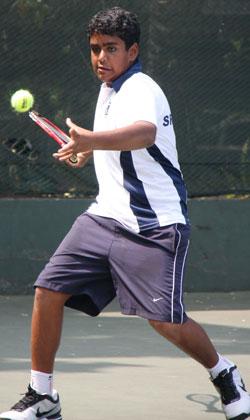 Sharmal Dissanayake in action
Dissanayake becomes the first Sri Lankan to be picked to represent the Asian Team in Group I at this age category. This was possible due to him finishing among the first five players in the ITF Asian Junior Championship held in China early this year.
Sharmal's overall position was sixth and only the first eight players are selected to represent the Asian Team at the European Tour. Dissanayake is scheduled to leave Sri Lanka on July 29 and will first go to Paris, France for a training camp from July 2 to 4.
The first BNP Paribas Cup tournament will be held at the Stade Francais, Paris from July 5 to 11. From France Sharmal will go to the Netherlands to play in the Windmill Cup Carl Gantois, in Leeuwarden from July 12 to 18.
Then he will come back to France to play in the Le 13/14 des Hauts-de-Seine, to be held in Rueil-Malmaison. This is a category 2 tournament to be held from July 19 to 24. The 33 International Deutsche Tennismeisterschaft, will be held in Cologne, Germany from July 26 to August 1. Dissanayake is expected to continue with his good form on this tour that will attract players of a high standard.
The Lapperre Young Champions Cup will be held in Hasselt, Belgium from August 2 to 7. This will be followed by the World Junior Tennis finals to be held in Prostejov, Czech Republic. A galaxy of young star tennis players are expected to feature in this tour and the exposure should be of immense value to Dissanayake and the future of Sri Lanka tennis.
Dissanayake will be participating along with Ceon Ju Shin, Seong Chan Hong of Korea, Xin Chen from China, Teeradon Tortrakul of Thailand, Jurence Zosimo Mendoza of the Philippines, Colin Wei-Ming Wong of Malaysia and Basil Lalchhuanawma of India.
Sharmal Dissanayake has been travelling from the age of eight years. He was picked to represent the Sri Lanka in the World Juniors Qualifying rounds in 2007, 2008 and 2010. He also represented Sri Lanka in the ITF Zone group II 14 years and under Asian Championship in the years 2008, 2009 and 2010. The tournament was held in Dhaka, Bangladesh in 2008 and in Sarawak, Malaysia the following two years.
Dissanayake won two bronze medals in the single and a gold medal in the doubles in back to back tournaments in 2009. This was in the ITF group II, 14 years and under at the Asian Championships.
He later won a gold medal and a silver medal in the singles and one silver medal in the doubles events in the back to back tournaments in the same age category this year.
Dissanayake represented Sri Lanka as a member of the ITF team in the ITF Zone I Asian Championships in 2008, 2009 and 2010. A student of Royal College Colombo, Sharmal Dissanayake is grateful to top players like Harshana Godamanne, Rajeev Rajapakse and Udith Wickremasinghe for sparring with him that enabled him to reach higher standards. He is also grateful to his present coaches Vijay Kanth and Christopher Barathi Pillai and former coaches Kingsley Candappa and Arul Amalanathan for the excellent guidance given at the early days to the present status.