The 58th National Billiard Championship conducted by the Billiards and Snooker Association of Sri Lanka (BSASL) got underway at its headquarters at Reid Avenue yesterday. Twenty nine of the top cueists in Sri Lanka are vying for honours which include defending champion K.H. Sirisoma of Sri Lanka Ports Authority who is favoured to retain the title for yet another year.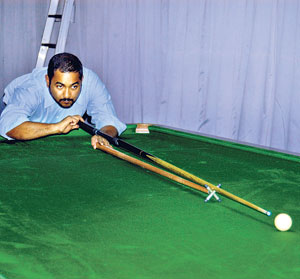 Zuraish Hashim of OAC who coasted to an easy win over S.I. Hinoon of MICH in action yesterday.- Picture by Ranjith Perera
The day one proceedings of the championship which is played on the time format of two hours saw six matches being played in the morning, afternoon and evening session. The final outcome of the six matches which was played in the three sessions saw M.J.A. Thasleem of Moors SC record two wins.
His first win was in the morning where he coasted to an easy win over D.G. Chaminda of YMBA Galle and then followed it up with his second in the evening beating S.M.M. Deen of Mawanella RC.
Zuraish Hashim of Otters AC too began his campaign with a comfortable win over S.I. Hinoon of MICH. The two cueists made scores of over 500 points but neither was able to make a good break.
In the other matches that were played veteran cueist S.M. Shaharwardie of Moors SC who is over 75 years of age, too had an easy passage against his opponent while S.M.M. Deen of Mawanella RC recorded a close win before losing his second game.
The 29 players contesting are divided into eight groups which include the players who came in the top eight of the All Island Lanka Plate billiard championship which was held two weeks ago. Meanwhile defending champion Sirisoma will be in action tomorrow when he clashes with Bharatha Siriwardena of BRC at 1.30 p.m. Another former national billiard champion W.A.J. Weerasinghe of AAC who is also in his late 70's will play his first match on the same day.
The round matches are scheduled to be come to an end on July 4 (Sunday) after which the dates of the knockout stage will be confirmed. Six matches are down for decision when play commence at 11.00 a.m. today.