Many articles have been written recently on the Bradby of 1951. Undoubtedly, the Bradby of 1951 was worth recalling and I would like to thank the respective writers for bringing the two matches to the fore after so many years. Both games played that year, by all accounts, had produced good rugby. Royal emerged winners 19-03 in the first Leg played at Longden Place in Colombo on July 7, 1951. In the return game played at Bogambara on July 21, Royal again beat Trinity by 13-05, thereby regaining the Bradby after losing it the previous year.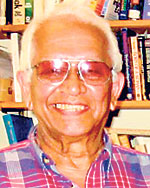 Humphrey Wijesinghe
The score in the first game remained the highest in the series for a single game under the old scoring system of 3 points per try and 5 per goal until in 1968 when Royal under C.R. 'Bulla' de Silva beat Trinity in the first game played at Longden Place by 19 points to nil, also under the old scoring system.
Last year I had the good fortune of meeting up with Humphrey Wijesinghe, who captained Royal in those two memorable record-breaking wins in 1951. Retired, he lives in Victoria, an island off the mainland of Canada (off Vancouver) in idyllic tranquil surroundings.
As I entered through the main door of his beautiful, compact and well-maintained home, the first thing that struck me was the photograph of his team, taken in 1951, hanging in direct view of the doorway. In fact, there were three Photos hanging one under the other. In the first one there are only 14 gallant men. Wijaya "Stanley" Unamboowe, who played that year, was missing as he had gone planting upcountry soon after the 2nd leg and his bosses had not allowed him to come down for the photograph.
However, Humphrey has done justice by sticking his photo at the bottom right of a copy of the main photo to complete the picture. This photograph has been autographed at the bottom by all the players concerned, including Stanley. Around this photograph were the scores of each match played that season. Just above this team photo was hanging another collection of photographs, duly framed, with pictures of most of the players taken 50 years later, which the skipper had been able to obtain at different times from his teammates living all over the Globe.
I was then taken into his well-equipped study. It had an array of all kinds of tomes from literature to science to comparative religion – indicating to me that here is a man who even in his retirement was still interested in widening his horizons. He then showed me all the records he had maintained of that season in 1951. All the relevant newspaper cuttings as well as a monitor's exercise book meticulously maintained by him in his own hand writing, which included the teams that played under him in the two Bradby games,(as it appeared on the College Notice Board) and the scores etc. This immediately got me excited and with his permission I photographed most of the relevant pages of the exercise book for my own records. I even re-photographed the photographs mentioned earlier. Even at this stage of his life he could remember vividly the details of the two games. Nothing pleased me more than to get first hand accounts of those games. Meeting with, a great rugby captain of Royal, indeed was a real pleasure.
As mentioned earlier Royal won the first game 19- 03. Kavan Rambukwella, Trinity's star centre, brilliantly cork-screwed his way to score that unconverted solitary try for Trinity. This is confirmed by the newspaper accounts of the day and by Humphrey himself. In fact that try had been brilliant enough for Sydney de Zoysa, a highly respected rugby personality of the day, to remark that it should be "embalmed for posterity!" And he ought to know best: he had refereed that game that evening.
As against those three points Royal scored 19 points. (Two goals, two tries and one penalty). These tries had been scored as follows: try by Norman Gunawardena, star wing-forward (flanker), converted by full back , Trevor Anghie; try by Stanley Unamboowe, converted by Anghie again , and two unconverted tries by Alan Henricus, Royal's fast-moving fly-off, and by Anghie himself. Anghie converted a penalty as well to make the tally of 19 pts. The headline of the day read "Royal completely outclass Trinity".
In the 2nd leg played at Bogambara, Royal scored 13 pts (two goals and a try) as against 05 (one goal by Trinity). Michael Abeyratne (the highly respected surgeon and gentleman to the core), scored Trinity's solitary try under the posts, after a skillful dribble of the ball from mid-field and a dash to beat Anghie to the goal line in the dying stages of the game. This was goaled by Madugalle to give those five points to Trinity.
In this game , Royal played with 14 men as, according to Humphrey's notes, three minutes after the kick-off, Royal's left prop S.N.(Rabu) Senaratne was carried off the field with a head injury and Balachandran, the Lock (no-08), came in as prop for the rest of the game, there being no replacements. Also minutes after the game commenced Royal scored the first try when the skipper, Humphrey, playing at centre, with a brilliant interception, mid-field, ran down to score.
Anghie completed it with a conversion. That was to be the only score in the first-half. After lemons Alan Henricus, "weaved his way" from the Trinity 25 to score. The conversion was by Anghie, who incidentally was the previous year's captain. Royal's tally of tries was completed by the skipper himself, who "outwitted the defenders" to score Royal's final try that went unconverted.
The Teams that did yeoman duty for Royal in the two games that year were:
First Leg: T. Anghie, (Full-back) T.L.K. Mendis(wing), M.A. Rahiman and skipper H.E. Wijesinghe (Centres) ,W. Unamboowe( wing). B. Dharmaratne (scrum-half), Alan Henricus (Fly-Off), I.M.S. de Silva and S.P. Wickremasinghe(Props) A.B. Van Twest (Hooker) G.C. Wickremasinghe and Devaka Rodrigo(vice-captain) as second rows; N. Gunawardena, C. Balachandran and S.D. Gunaratne ( Third Row)
Reserves: G.A. Jayasinghe, L. Hewavitarane, I.T.B Ratnayake, J.A. de Silva and R. Natkunam
In the second Leg, Senaratne played for I.M.S. de Silva as Prop and L.K .Hewavitarane played scrum-half instead of Dharmaratne and G.A. Jayasinghe played on the wing instead of T.L.K. Mendis.
That year's Royal team produced five national caps in Norman Gunawardena, Devaka Rodrigo, Trevor Anghie, Stanley Unamboowe and Alan Henricus.
There were two brothers in the team: S.P. Wickremasinghe and G.C. Wickremasinghe. It is worthy of note that Norman Gunawardena (1951) ,his son Ajit and grandson Revan all scored tries in the Bradby. While Ajit G, also playing in the third row, scored in both games in 1975 and in the first game in 1976, grandson, Revan , playing as a winger , scored in the 2nd leg in 2006.This is an achievement that will take quite some time to equal.
S.D. Gunaratne's son D.S. also played in the Bradby. So did Stanley's progeny Salinda Unamboowe. Dharmaratne, Hewavitarane, Unamboowe and Van Twest all played in the Royal cricket team that beat STC in an impossible finish that year.
The fact that Royal's dynamic skipper Humphrey Wijesinghe scored that final try for Royal to regain the Bradby in 1951 is a fitting finale indeed. He couldn't have asked for more, as the coveted Bradby, perhaps, is the best present he could have received on behalf of his school on his 19th Birthday!