"Back in the day, I used to take my training very seriously. I would be on a strict diet of raw vegetables and became a fitness addict, doing plenty of road work and jogging on soft sand, which was very tough. In addition to all this, and my training at the YMCA, I would regularly swim up to 1 ½ lengths underwater to improve my lung power. I would punish myself just so I could go that extra mile. That's how I was able to fight in both the Pin and Fly weight categories," reminisced unbeaten boxer, adventurer, entrepreneur and freelance writer - Sharm De Alwis.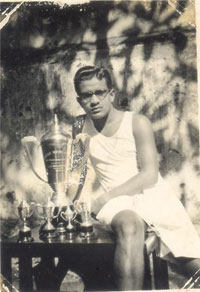 Sharm De Alwis during his hey days
"Having a father who was Captain of the Boxing Team at Ananda College, and an uncle who was a good boxer at Royal, boxing was no stranger to my family. Ever since I can remember, I was very interested in boxing, and was also an avid reader and collector of 'The Ring,' and other boxing magazines. During my early days boxing for Trinity College, when I was not even in the College Boxing Team, I managed to pepper L.K.L. De Silva, who was in my same weight class. I still remember how he was always a pugilistic stylist, decked up in his v-necked banyan and boxing shoes, whilst I would box bare foot. When we started boxing at College, we didn't really have a Coach per se. It was our Captains who trained us. I recall Michael Kagwa, a Ugandian boxer, who was a student at College at the time. We had boys from about 13 nationalities studying at College then," recalls De Alwis.
Later, in around 1950, when he was at Wesley College, Sharm, together with his friend Babu Ahamath had agitated with the College authorities to include boxing to the sports curriculum. Thereafter, Wesley went on to produce many local Boxing Greats, such as David Schokman (first College Boxing Captain) and Ranjit Abeyweera (who later captained the Air Force Rugby team). The latter affirmed Sharm's theory that boxers make great rugby players because they're fearless. "Once I left Wesley aged 19, and before I joined Shell Gas, I wound up at an Open Air Carnival - Boxing Competition in Kurunegala, where I fought against Egerton Jobsz who was 22, for four rounds, before ending up in a 'no contest,' as we were both equally strong," he added.
Later in around 1953, Sharm joined Shell Gas, and was subsequently appointed Captain of the Shell Boxing Team in 1954-56, where he fought in both the Pin and Fly weight categories. He went on to win both these titles for three consecutive years at the Best Boxer's Cup (a Mercantile Boxing Meet where the cream of National boxers competed), thus entitling him to win the Cup outright. The Shell Team, under his Captaincy, also emerged Champions of this meet for three years running.
"Boxing has always been a 'Cinderella Sport' in Sri Lanka, with only the real die-hards taking to it. Over the years, we've produced many fine boxers of the caliber of Albert Perera, Eddie Gray, Alex Obeyesekere, Lesley Handunge, Michael Bulner, Sumith Liyanage, K. Edwin, Mahasen Weliwitigoda, Anton John, to name a few. My boxing skills were fine tuned under the watchful gazes of the three veterans Gray, Obeyesekere and Perera, at the YMCA in Fort. Coaches such as them never basked in the reflected glory of their protégés. Today, boxers worldwide don't know their basics.
They don't have any proper foot work, no science, just slugging like wrestlers hugging each other. This could be due to there not being many coaches who've been boxers themselves," elaborated De Alwis nostalgically. Locally unbeaten in over 25 fights, and on the verge of bagging the National title of Pin Weight Champion, the fast life of the West and the desire to pursue his higher education, lured Sharm away to London. Whilst there he continued to box for the likes of Polytechnic, Crystal Palace and Chelsea, but hung up his gloves prematurely within two years, as, due to his short stature and weight category, his opponents turned out to be mostly teenagers. Whilst in London, he went on to study Advertising and Market Research.
His return to Sri Lanka from London though, is what I found most interesting, and least known about his life. "Having completed my studies, I decided to indulge the adventurer in me by taking three months off to travel back home by land, on my Lambretta Scooter. I started off by taking a ferry from Dower to Calais," recalled De Alwis.
"I would approach young girls in every European city I visited and tell them it was my birthday. They would shower me with attention and treat me to all sorts of things. It was good fun! I met lots of different people along my travels, some of whom even invited me home for a meal and sometimes sleep over. Once in Austria, I shared a bed with a Policeman and his wife who I met at a heurigen up on the hills, for one night. People were always very friendly and hospitable, especially as it was just my Lambretta and me, and also because I was quite an uncommon sight at the time, as there weren't many Ceylonese in the West at that time. In Isfahan, a waitress even danced for me whilst I ate. She danced for my supper," said De Alwis laughingly.
"Having traveled from London, through France, Germany, Austria, Hungary, Greece, Turkey, Afghanistan and finally India through to Sri Lanka, I was able to see the picturesque Hindu Kush plains and rocky land of Afghanistan. I have just one unfulfilled ambition left, which is to follow the course of the Mahaweli River by boat, right from its source downward, but, I think my son who's inherited my explorer genes, will have to fulfill it on my behalf," said De Alwis.
Upon his return to Sri Lanka, Sharm took to the field of advertising, after which he started up his own Export Packing and Shipping Company - Kangaroo Packing and Shipping Services, which is now in its' 40th year in operation. Now, Sharm is also a Freelance Sports, Travelogue and Social Comment Writer.
At the end of the day though, Sharm sums up his life's experience in one line - "My wife has, is and always will be, the wind beneath my wings…"