Playing a solid all-round game, Police managed to hold off a furious second half rally from Army to win their Caltex league rugby fixture at the Army grounds by 15 points (one goal, one try and one penalty) to 8 ( one try, one penalty).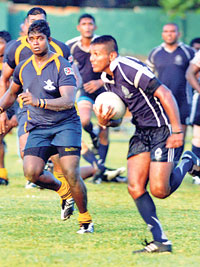 A Police player running through the Army ranks. – Pic by Ranjith Perera
The try scorers for Police were lock Romesh Acharige and prop forward Nalin Welagedera while centre Harshana Wijeweera contributed with a penalty and a conversion. The Army fight-back was spearheaded by centre Asanka Perera, who went over for a try and booted a successful penalty.
The first half was completely one sided, with the policemen finding their way into the Army half of the pitch with great ease and regularity. The pressure finally told in the third minute when Police were awarded a penalty in front of the goal posts. Wijeweera did the honours to put Police on the scoreboard.
This early score seemed to deflate Army further and the Policemen capitalized on this and ripped through the soldier's defense to score three minutes before the breather. Acharige calmly sailed over the line after his team strung together a flurry of fluent passes. However Wijeweera failed to add the extra points this time.
The second half was a completely different story with Army immediately striking back with a successful penalty from Perera in the 54th minute. However Police refused to be silenced, responding three minutes later with a try from Nalin Welagedera. Wijeweera was on target with the conversion.
With just over four minutes left in the game, Perera ran across the line to resurrect Army's hopes. However the failed conversion along with a few crucial fumbles during the game's final moments ensured that Police secured a deserved victory.