Some they say are born great, others achieve greatness while still others had greatness thrust upon them. Allan Gunasekera reached dizzy heights in both his sporting and personal life. Sure he had the talent but most of all he had the will to succeed in everything he undertook.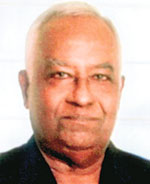 Allan Gunasekera
In fact you could say his life's Motto was "nothing succeeds like success" Allan was a boarder at St. Benedict's College Kotahena where as a tiny tot he used to watch spellbound as the various sporting teams used to practice. He decided to get involved in sports himself and the floodgates simply opened, for Allan himself did not realize the incredible talents and skills he possessed and he was an outstanding sportsman in not one but three disciplines, cricket, soccer and hockey representing the College in all three.
It wouldn't be way off the mark to say that cricket was Allan's first love as he represented the U-12, U-14, U-16 and 1st eleven teams of the College. Among his illustrious colleagues were L.P. Rayan, Elmo Rodrigopulle, Lionel Fernando and the late Cecil Waidyaratne. Apart from many useful scores as a rock solid opening bat Allan was best remembered for his enterprising ton against Nalanda College in 1959 when St. Benedict's were on a slide certain to lose this encounter.
Allan's breathtaking century allowed St. Benedict's to earn an honorable draw. He repeated this feat against St. Anthony's in 1960. Added to this his wicket-keeping was to say the least utterly fabulous and was considered one of the foremost stumpers in the school's cricket circuit during his time.
However the icing on the cake was his selection to represent the strong Mercantile side led by that living legend C.I. Gunasekera against the visiting Gopalan Trophy side with many Indian Test players even before he played Sara Trophy Cricket for Tamil Union figuring only in a couple of Mercantile matches for McLarens. In fact he was one of the 1st Sinhalese sportsman to play cricket for the Tamil Union which side he represented for 7 years. Among those who played with him were C.T.A. Schaffter, the late Anton Sethupathy and Niel Chammugan.
In soccer and hockey he represented St. Benedict's as the right extreme and goalkeeper respectively. Needless to say St. Benedict's were school's champions in both sports or somewhere near the top. Once playing for Old Bens Vs B.R.C. Allan was in the way of a powerful drive by a B.R.C. forward and the ball instead of going in right to the goal deflected off Allan's head ad went back to the playing area.
There was absolutely no injury to the 'tough as nails' Allan. Now migrated to Australia with his family Allan has opened a Sri Lankan hotel in Melbourne known as the Curry Bowl which attracts many patrons both Sri Lankan and Australian.
This writer had the pleasure of meeting Allan and his pretty wife Pam when they came down here on holiday. All in all, Allan is one individual who has achieved many things in life which ordinary people only dream of. He is certainly bound to be on song with Frank Sinatra's hit tune, "I did it my way.'