The Sri Lankan government has decided to enlist the support of the United Nations Industrial Development Organization (UNIDO) towards creation of a well developed industrial infrastructure in the North and the East and rehabilitation of 2,000 Small and Medium Enterprises in the region under a 5-year plan.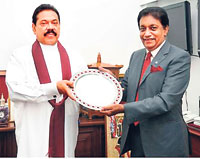 Picture shows a special platinum memento presented to the President during UNIDO DG's visit was handed over by the National Director of UNIDO Nawaz Rajabdeen.
A senior official of the Ministry of Industries told the Business Times that they are planning to undertake measures to improve the socio- economic conditions of small companies and the people, mostly Tamils, in the two regions with UNIDO assistance. UNIDO will work very closely with the Ministry of Industries on a 5-year Industrial Plan for SMEs in the North and East for sustainable Industrial development. This assurance was given by Dr. Kandeh Yumkella, Director-General of UNIDO during his recent visit to Sri Lanka, he said.
"The opening of the A-9 road, lifting of the ban on fishing and access to funding are major incentives to restart businesses in the North and East," he added. UNIDO Focal Point National Director Nawaz Rajabdeen said that they have already commenced work Last year to support farmer societies in supplying tractors and machinery to increase the productivity and quality in paddy cultivation.
The beneficiaries are poor farmers in Trincomalee and Batticaloa. These farmers are monitored and supported by the respective chambers in the region.
Machinery worth over Rs. 100 million including two and four-wheel tractors, water pumps, shredders farming equipments was distributed among farmers in the region, he said. He revealed that the UNIDO Director-General has assured to support over 100,000 war widows in the regions in various sustainable livelihood programs through the regional chambers.