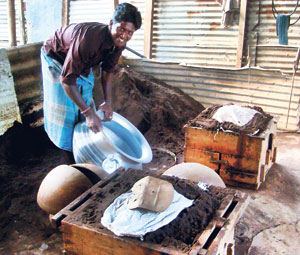 Thivendran Sujeevan
Under a new programme, Pushparaja Janaki is one of the beneficiaries who received financial assistance to start and expand her small business through the YBSL (Youth Business Sri Lanka) programme being implemented by the Chamber of Commerce and Industry of Yalpanam.
This entrepreneur support scheme has helped young entrepreneurs, who are either running self employment businesses or have had an idea of starting a business, but did not have capital to do so.
Being isolated for a long period due to the conflict, these youth do not have any collateral to raise funding or securable assets, or even guarantors, according to an official statement.
Thivendran Sujeevan of Nallur, restarted his father's business of making aluminum pots for household use, and now manufactures large pots with new casting moulds and increased capacity with the funds from YBSL. "Larger pots have a higher demand and we get a good profit", he says.