Cargills Ceylon, the supermarket chain, is looking at setting up a Rs 400 million milling facility to produce oil from rice bran. The mill is to be located in the war-recovering Ampara district. The company is now in the process of testing the consumer market for rice-bran oil, which it claims has many health and cost benefits.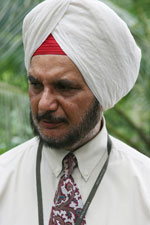 Dr Jagdish Katyal
"To test the market reaction we will be importing rice-bran oil from India and will retail the oil at selected Cargills outlets, from next week. Initial tests indicate that people are willing to try rice-bran oil because of the many health benefits," Cargills consultant in agricultural business activities, Dr Jagdish Katyal told the Business Times.
Rice bran oil is a vegetable oil extracted from the outer covering of unpolished rice. The oil contains a number of vitamins including vitamin E, nutrients and antioxidants and is free of trans-fat, says Cargills. Its qualities are seen as particularly good to fend off heart diseases.
The oil is also seen as cost effective as it has good cooking qualities like the highest smoke-point among vegetable oils. This allows the oil to be re-used more often. The oil is also thin in consistency meaning less of it can be used for more, compared to other cooking oils.
Once market tests are over, Cargills is looking at setting up its rice oil manufacturing facility in Ampara to produce the oil locally. The company has already been allocated 3 acres of land by the government for the project.
"We selected the Eastern Province because the rice production is high and because we want to help these people with livelihoods. We hope to provide about 100 jobs at the mill. We will mainly buy the bran from millers. These are mainly small scale mill operators," said Dr Katyal.
Cargills says its rice oil will not hurt the domestic coconut oil industry but will only supplement it. The company says local production of rice oil will reduce costs of importing vegetable oils and will make a healthy oil available at reasonable prices for local consumers. Cargills is also looking at another Rs 35 million investment in the Eastern Province to manufacture health foods.