There has been much debate with apprehensions expressed about signing the Comprehensive Economic Partnership Agreement (CEPA) with India. The result is that a decision to sign has been postponed.In connection with such trade with the rest of the world there are certain principles and policies that should be followed instead of prejudices.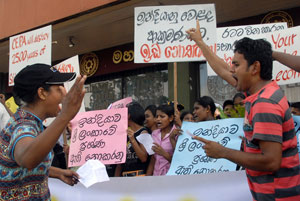 Protesting against the signing of the CEPA agreement
Small Country with Small Market to export
The first principle is that a small country with a small domestic market such as Sri Lanka has to produce for export if it wishes to achieve faster economic growth and realize prosperity while alleviating poverty. This also means that pampering of domestic enterprises with too high tariff protection can stifle growth while making them sluggish and hesitant to heed the demands of customers for better quality goods and services. Customers of these enterprises can claim that some local products as well as services have made very little progress by way of improving quality during the last few decades.
Competition to lead to Innovation
On the other hand some degree of competition among local and foreign firms could encourage our firms to resort to innovation to overcome competition from the latter and even beat them at their own game as demonstrated by firms like Sri Lanka Telecom and some local banks, several firms like Hayleys Dipped rubber products and Loadstar hard rubber products as well as numerous examples cited in management literature. This is another principle to be ignored at our peril. What is therefore needed is a reasonable degree of protection to local entrepreneurs to be checked from time to time by setting up a Tariff Review Commission and provision against dumping as well as state assistance for undertaking research and development for product development, training of personnel and expansion of markets.
Comparative Advantage
Still another principle that Sri Lanka can benefit enormously is by producing products and services in which it has a comparative advantage (at a lower resource input cost) over other countries on a large scale -- for export. Comparative advantage can, however, be acquired by developing our technological capacities for instance by enhancing the level of education -in mathematics and science subjects- or by attracting Foreign Direct Investments which have the necessary technological and management capabilities. Specialization in producing large quantities of such goods and services will not only enable the country to reduce unit costs of production as well as differentiate activities to avoid being copied, to be internationally competitive, but also use its resources particularly labour to the maximum by proliferating industries and services in areas with comparative advantages, thus solving the problem of unemployment.
The people can then earn higher incomes and consume more products and services like automobiles, electronics and highly specialized services in which it has no comparative advantage to produce due to its smallness and resource scarcity, by exchanging them with its exports. This is another reason for Sri Lanka to emphasize on exports.
No Export, No Growth
The other side of the coin is, if the country does not export, the people will not be able afford such luxuries, even essentials that are not produced domestically and be content with whatever that is available besides letting its excess labour lie idle or let them slave away in some foreign country even at the cost of their lives, as happens now. What this means is that economic growth will be stifled and the country will continue to be poor. This will be the outcome if we recklessly rely solely on the small domestic market for economic growth as we appear to do now.
Now let us get back to the need for export and the need to look for new external markets for this purpose. Sri Lanka's major export markets have been the United States and the countries in the European Union. Demand in these markets has contracted due to the recent recession and is likely to continue to be so for some time in the future. So we have to find and capture new markets in Asia, South America and perhaps Africa in addition to the traditional markets.
Huge Market Next-door
Now the question that arises is whether we can ignore the huge Indian market next door, freight costs to which will be about the lowest? How many countries can boast of such a market in close proximity, as Sri Lanka? If it is an attractive market, which I think it is if not for all sorts of non tariff barriers, the next question that arises is why did we wait till our big brother makes an overture? What I am saying is that not only the Institute of Policy Studies but also the Sri Lankan institutions concerned like the Export Development Board, the Department of Commerce and even the universities should have undertaken studies of the potential of the Indian market long ago in a transparent manner to raise public awareness of the issues involved in association with our trade chambers and should have developed strategies and back up policies for entering it and profiting by it, instead of being pushed into it. What is important is to enter this particular market on our own terms (sans non tariff barriers and quotas for instance) in view of the other fears that are expressed such as the possibility of interfering in our internal affairs.]
Competitiveness is Key
Here the key word is 'profiting' or benefiting from entering the non American and non European markets such as that of India where price would be the main plank of competition unlike in the case of our traditional western markets where quality has been the main issue. I am, however, not saying that quality is not going to be important for competing in these new markets. Competing on the basis of price (and quality) is not , however, going to be a 'cake walk', given our lax macro-economic (budgetary and monetary) policies, over valued exchange rates which make exporting uncompetitive, the low level of education and physical infrastructure facilities like roads, ports and telecommunications, the continuing ethnic disharmony as well as the proposed questionable changes to the constitution, particularly doing away with the independent commissions that will definitely lower the efficiency of our public institutions including the judiciary to abysmal levels not seen before and destabilize society while increasing the procedural travails of enterprises, as recruitment will not be on the basis of merit but on political influence. Higher competitiveness is another principle involved in succeeding with export. See the global competitiveness index reproduced below. Where the macro economy is concerned Sri Lanka's rank is 128 out of 133! In higher education and infrastructure it is 64. In the case of institutions it is 73, (with the proposed negative changes to the 17th amendment to the Constitution this ranking would fall further). In technological readiness it is 85.
Stability to Attract Investment
Given these appalling conditions will investors who are expected to produce goods and services on a large scale for export competitively to these new markets including that of India make decisions to invest on a long term basis? According to experience what such investors value most appears to be long term socio political and economic stability emanating from good governance and not necessarily tax incentives. If not will the country be able to grow at more than 8% per annum and double our per capita income to US $ 4000 in six years as planned by the government and endorsed by the people, solely on the basis of the small domestic market? Investors who wish to make a fast buck especially from our over- generous tax incentives will come (and go), but would not make a dent in the supply position for export.
Leaders to Succeed
Now that our leaders have given us a country free of terrorism, it is the duty of all Sri Lankans especially the professionals to help them to change conditions for the better without fruitless ideological and nationalistic fixations. What is more patriotic than delivering the 40% of the poor (on a 2 US $ a day income basis) in the country out of grinding poverty and malnutrition, emulating India and China which have succeeded in releasing several hundred million people from destitution with their pragmatic development strategies and policies? Our leaders too can do it, of course, with better advice devoid of ideological, nationalistic and other emotional attachments.