The Oluvil Port Project, aimed at economic development in the Eastern region of Sri Lanka and funded by the Ministry of Foreign Affairs of Denmark (DANIDA), has progressed rapidly with the first phase of the project expected to be completed in September 2010. Commenced in July 2008, the project is paving avenues to open the port for its vessel and fisheries operations in the near future. According to a press release, the total project cost is Euro 46,095,369.49 at stage 1.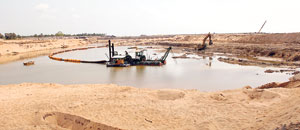 The loan agreement for the Oluvil Port Project was signed earlier between Nordea Bank, Denmark and Ministry of Finance & Planning of Sri Lanka on 23 May 2008. The acquisition and purchasing of lands for the project is completed while Compensation payments to more than 800 beneficiaries have already been made.
The press release stated that under the 'Nagenahira Navodaya Programme' which was launched to expedite the development activities in the eastern region, higher priority was given for the Oluvil Development Project which would undoubtedly be a catalyst of economic infrastructure development for the growth of the Eastern region of Sri Lanka.
Oluvil Port that forms the southeastern link in the developing chain of coastal harbours in the country is expected to provide more convenient and cost effective access to and from the southeastern region for goods and cargo originating on the west coast. The project also comprises the construction of a commercial harbour and a basin for fishing crafts that cover a land area of 60 hectares in the first stage and 105 hectares in the second stage. The harbour basin would cover an area of 16 hectares of the sea and would spread 1.2 kms along the coast line.
The press release further stated that the main construction components of the project is to develop a commercial harbour with appropriate shore facilities to cater to general cargo vessels required to supply the current needs of the region, including coastal passenger transport, with provision for expansion in to a bigger harbour in the future.