Fancy owning a luxury villa on an isolated island?
The Maldives, innovaters of the island concept of tourism in Asia, is going one step further: Building and selling luxury villas on uninhabited islands.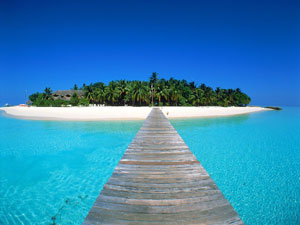 According to Mifzal Ahmed, Advisor on Investments at the Maldives Ministry of Economic Development, the government is inviting tourism resorts and developers to build these luxury villas on islands that are close to these resorts.
"Villa owners – who may be living abroad - can get the usual services from these resorts, whenever they visit. They could also rent it to someone," he told the Business Times in a recent interview in the Maldives. He said many resort developers were interested in the concept – building villas on an adjoining island and providing it services – adding that the authorities will look at any resort and nearby island where this plan is geographically feasible.
"We need to innovate (to develop). For example take a resort where there is an island nearby; 60 to 70% of the tourists are on repeat stays and many want to own their little villas, particularly high networth individuals," he said.