Sri Lanka's public utility regulator, Public Utility Commission of Sri Lanka is reviewing the Power and Energy Ministry's proposal of introducing a new electricity tariff system that will provide benefits for consumers who use electricity during off peak hours (between 6.30 pm and 9.30 pm).
Under this new system consumers will get a considerable tariff reduction. Minister of Power and Energy Patali Champika Ranawaka recently announced that the charges on electricity for industrial, commercial and domestic consumption will be substantially reduced if the consumers adhere to the guidelines laid by Ceylon Electricity Board (CEB).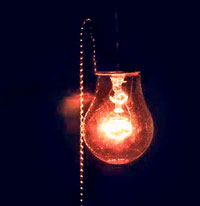 The CEB has incurred a heavy loss of Rs. 40 billion but electricity charges would not be increased considering the plight of 4.2 million electricity consumers in the country, he told the Business Times, adding that the CEB has taken a policy decision to sell an electricity unit for Rs. 12.94 when its actual cost is Rs. 17.51
"Under the new off-peak tariff, the large, medium and small scale industrialists could shift the bulk of their operations to night shift in order to cut production losses and get the tariff reduction benefit," he added. A special off peak tariff will be offered to industries which can shift the bulk of their operations to a night shift. Industries with low profit margins could reduce their electricity cost substantially, if they opt for this tariff scheme. On the other hand, such industries will be charged more if they use peak time electricity, Minister Ranawaka said. Industries like ceramics and apparel can now shift a major portion of their operations to a night shift and derive benefits from this offer, he added.
A PUCSL official said they were studying the proposal. A research study on 'electricity requirements of prospective electricity consumers, fuel (electricity) poverty and affordability' is to be carried out by the Commission. "The findings of the survey and draft policy recommendations formulated on the basis of such findings will be discussed at a public consultation in July," he said. He noted that the regulator has also asked Lanka Electricity Company (LECO), a semi-government power supplier, to submit its views on the new Ministry proposals.
However, trade unions say that they are not in favour with the proposal of shifting bulk of operations of industries to a night shift in a country with strict labour rules and entitled leave per annum for workers. Anton Marcus, General Secretary of the Fre Trade Zones and General Services Employees' Union told the Business Times that such a proposal cannot be implemented by the employers especially in the apparel sector where the majority of workers are females.
Curent labour laws should be amended to implement such a proposal, he said. But Minister Ranawaka said that the government is not forcing employers to shift their operations to night shift. They can do so with the consent of employees and if any amendment to the law is necessary the government will not hesitate to introduce new laws or amendments for this purpose, he added.