Terror wave memories never die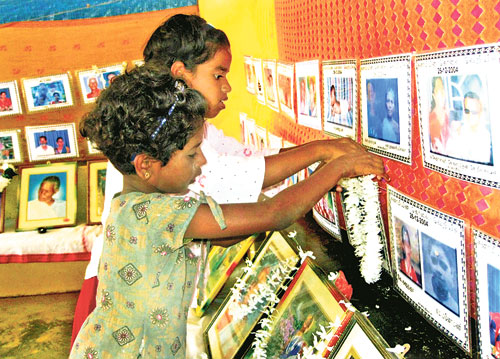 Two sisters from the village of Karativu in the Ampara district garland a picture of their sister who died in the 2004 tsunami. This ceremony was held by the fishing community of the area. Pic by Wasantha Chandrapala
Cupful of deli ciousness
Hafsa Uvais lives in a house in Rajagiriya that is filled with delicious smells. There's a fresh batch of cupcakes going into the oven and on an adjoining table, a helper slowly pours condensed milk into a bowl full of rich, creamy chocolate icing.
Economic poser to Rajapaksa & Fonseka

President Mahinda Rajapaksa wants to reduce poverty to the lowest level in the country while his main challenger at next month's presidential poll, Gen. Sarath Fonseka sees corruption as one of the main issues and wants to completely remove it from the system.
ACBT-Time and education spell success
The pathway to international education is clear with ACBT. Its recognized degree programmes give options for students to go beyond borders to complete their degrees.
Three little words
Faith, confidence and belief are three of the most powerful words in a man's life. If you convert the real meaning of these words into practice I feel that everything they touch could turn into gold and be a tremendous success in any task they undertake.
Public servants violate polls laws
The involvement of public sector officials including diplomats in the ongoing presidential election campaign has set a poser to the Department of Elections.
Govt. blocking buses to Jaffna: Wijeratne
Private bus operations in the lucrative Colombo-Jaffna route along the A9 Road have been blocked by a powerful government politician who is in charge of the Northern Development Project 'Uthuru Wasanthaya', Private Bus Association President Gemunu Wijeratne alleged yesterday.
Not who won it, but what's on offer
At the end of the first week of the Presidential Election campaign, the 14 million voters of this country seem to be faced with Hobson's choice - where their options are, to put it mildly, limited. Hobson was, for those who may wonder, an English liveryman who when his customers wanted a horse gave them no choice - he insisted they take the horse closest to the stable door or none at all
Campaigns lacking vision and direction -

Political Column

Political campaigns for the Presidential Election by the two main contenders - President Mahinda Rajapaksa and Gen. (retd.) Sarath Fonseka - appear to have lost their directions just two weeks after nominations.

The year that transformed the nation - The Economic Analysis
It is a time for retrospective reflections on the turn of events that characterized 2009. It certainly was no ordinary year. It was a year that began with the economy heading towards a crisis. And then almost at its brink there was a dramatic turnaround.
'Tsunami boy' Asitha moves on

No more does he roam the streets of Katukurunda, Moratuwa, with his friends playing "teek bola" (marbles) but has his mind set on passing his Ordinary Level and then getting a training in some "mechanical and electrical work".
Unrest in the palace
King John handed over five Christian priests to the Sri Lankan envoys. They belonged to the Franciscan order. The leader of these missionaries was John Vile de Konde. Towards the end of 1543 A.D., they came to Sri Lanka.
MOST VIEWED ARTICLES

LATEST NEWS