The introduction of a Freedom of Information Act (FOIA) and the formulation of a media policy ensuring greater freedom and guarantees are priorities for Gen. (retd.) Sarath Fonseka, his co-spokesperson announced yesterday.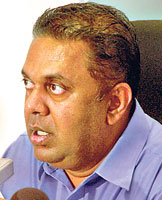 Mangala Samaraweera
"He will introduce them within weeks of coming to power," Mangala Samaraweera, told the Sunday Times in an interview. He said that these measures will be contained in the Common Minimum Programme (CMP) of the opposition parties to be released next week. Mr. Samaraweera said that the FOIA would be an "indispensable tool in the fight against corruption." Already a small team of experts are studying the Indian example, he added.
He said that the Newspaper Society of Sri Lanka, the Editors Guild, the Free Media Movement and other organisations will be consulted in the formulation of the new media policy. Also included in the CMP will be a pledge to set up Special Tribunals with sitting judges to probe bribery and corruption. New legislation will also be introduced to give teeth to existing anti-corruption laws.
Mr. Samaraweera, a former Cabinet Minister who has held many portfolios including Foreign Affairs and Media, was Mahinda Rajapaksa's campaign manager at the 2005 Presidential Elections.
Here are edited excerpts of the interview:
ON HIS BEING WIDELY CREDITED AS THE MAN WHO BROKERED THE COMMON OPPOSITION FRONT TO SUPPORT GEN. (RETD.) FONSEKA:
Although I facilitated the support of the JVP and the UNF for General Fonseka to a certain extent, the real credit for bringing these two opposing political ideologies together must go to General Sarath Fonseka himself. In Sarath Fonseka the two principal opposition parties have found an apolitical catalyst for change and a man of his word, who can spearhead the much needed constitutional reforms along with the restoration of democratic values, with "military" precision.
POLITICAL OBJECTIVES:
The 26 year old war kept our country from reaching our development potential and many believed that once the war was over, we could release our resources to meet our developmental goals.
Unfortunately the country is trapped in a quagmire of nepotism and unprecedented corruption; corruption today is costing our country as much or even more in economic terms than terrorism. According to Professor A.D.V. de S Indraratne, the renowned economist, if not for corruption "Sri Lanka's growth rate would be raised by a further 2 percentage points". From 2006- 2009, it is estimated that corruption has denied the people a total sum of Rs.810 billion.
Despite winning the war against terrorism, we are losing the economic war. Therefore, the principal objective of President Fonseka would be to wage war against the scourge of corruption with the same single mindedness and resolve as he did when fighting terrorism. General Fonseka's mission statement along with a clear, concise and credible Common Minimum Programme (CMP) will be released in the New Year.
ON BEING A CRITIC OF GEN. (RETD.) FONSEKA EARLIER:
I was a strong critic of the government's policy of trying to politicise our army to suit the family agenda. It was in this context that I made my remarks in response to a statement attributed to the General. It was a statement made without any malice and we both had the political maturity to laugh it out.
FOREIGN POLICY:
Sri Lanka must again be the shining beacon of moderation and non alignment, respected by all nations - north and south, rich and poor. The present regime's confrontational foreign policy designed to keep it's xenophobic extremist allies happy has alienated many of our long time friends and supporters; the present regime's policy of aligning ourselves with International outcasts like Burma's military junta, has put us on the verge of being considered a pariah state.
The foreign service has been politicised as never before; today the much respected Ministry has become a virtual employment agency for relatives and hangers on of the President and the Minister. The Ministry has also become synonymous with ostentatious and vulgar extravagance. This will be changed and the policies of the late Lakshman Kadirgamar, one time Foreign Minister, would again be put into place. Professionalism and merit would replace nepotism and favouritism.
ON PRESIDENT RAJAPAKSA:
The present government and its decision making process revolves around President Rajapksa and his coterie of relatives. Over 70% of the budget is controlled by Mahinda, Chamal, Basil and all defence procurements are controlled by Gothabya and Lalith Weeratunge, also a close relative.
The Central Bank is headed by a close relative; as well as other key state institutions while some of the plum diplomatic postings have been divided between the clan. It is reported that over 200 relatives are being employed in one capacity or the other by the Government. The purchasing power of members of the family has now become legendary and some observers claim that Sri Lanka has now the honour of being home to Asia's richest political family.
ON INCREASING BRIBERY AND CORRUPTION:
Waste, bribery and corruption are draining our country of our much needed resources and the challenge of wiping out this menace is as daunting as the challenge of terrorism was for 26 years.
The MIG 27 deal where large amounts of money was paid by the Defence Ministry to a non existent company along with all dealings of the Lanka Logistics Co. will be investigated. The highly questionable deals between the government and Chinese companies must be investigated; for example the Pallai to Kankesanthurai rail track is costing US $ 4m per km where as the Omanthai to Palalai Indian built is costing US $2m.
The Highways Ministry under the President is also a den of corruption which must be investigated. Mihin Air will also warrant a major investigation along with dozens of other allegations of misappropriation of state funds.
Special tribunals will be set up with sitting judges to look into all these allegations while new legislation will be enacted to give teeth to our bribery laws. (ENDS)