Only one out of nine of the 200,000 Internally Displaced People (IDPs) has met the deadline to submit applications to vote at the January 26 Presidential election, prompting election officials in the north to hold a special meeting with the Elections Commissioner.
The meeting is to be held in the first week of January to decide the voting arrangements of the IDPs in Vavuniya as well as to provide for as many IDPs as possible to exercise their franchise.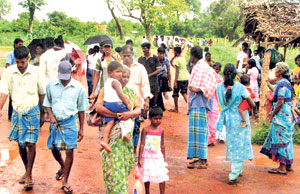 IDPs in Vavuniya: Polls mean little for them
According to elections officials, the number who had heeded the call to apply before December 24 was 22,000 though IDPs on the 2008 electoral register had totalled 200,000. Elections monitors have asked the Department therefore to extend the date and give those who missed the opportunity to apply.
Meanwhile, election monitoring groups are blaming the Commissioner and political parties for not taking effective steps to encourage IDPs to vote.
Campaign for Free and Fair Elections (CaFFE) spokesman Keerthi Tennekoon said there had been little or no voter education for more than three decades in some parts of the north and people did not know the importance of voting.
Another reason was that there were no proper Grama Sevaka offices and Divisional Secretariats where people could go and register themselves for voting. "Some of these offices have the list of 1989 as the last update for voter registration. Some of the people do not know their Grama Sevaka Divisions," he said.
He said that except for the EPDP, other parties were not actively involved in the campaign for the elections in the north. Mr. Tennekoon said the main opposition parties the UNF and the JVP had not conducted campaigns in Jaffna or Wanni districts, especially among the IDPs.
"We have received reports that certain parties were not allowed to visit the camps", he said. People's Action for Free and Fair Elections (PAFFREL) deputy chief Rohana Hettiarachchi appealed to political parties to act more effectively in getting the IDPs to vote.