Private bus operations in the lucrative Colombo-Jaffna route along the A9 Road have been blocked by a powerful government politician who is in charge of the Northern Development Project 'Uthuru Wasanthaya', Private Bus Association President Gemunu Wijeratne alleged yesterday.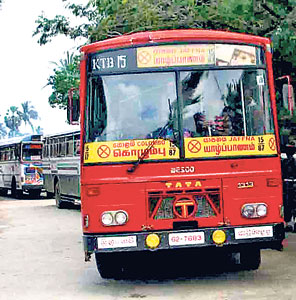 Colombo-bound state buses in Jaffna
He said that although there was a need for 100 buses to carry passengers from Colombo to Jaffna, at present only two CTB buses and one air conditioned bus were operating on this route.
"We had talks with an Indian company and even with the Indian High Commissioner on getting 50 buses to the country. But we were told the purchase should be done through the government," he said.
Mr. Wijeratne said that Transport Minister Dulles Alahapperuma was informed and a report was submitted to the Ministry of Finance.
"We believe the government is blocking private operators because it wants to maintain a monopoly on this route," he said. Mr. Wijeratne said the air conditioned bus charged Rs. 2000 a person and it belonged to a minister from Jaffna.
Minister Alahapperuma said the Ministry was hoping to follow open tender procedures and private operators were one of the groups in line. "After we consider the request by all groups who want to operate buses on this route, we will issue the licences," he said.