Although Vavuniya town has been bustling with new life, the surge in population has taken its toll on the health sector, with hospital authorities struggling to cope with the increasing number of patients.
The main hospital in the town has facilities to accommodate only about 550 in-ward patients, but it is treating more than 1400 in-ward patients, stretching its resources to breaking point. The hospital also treats 1,200 outpatients every day.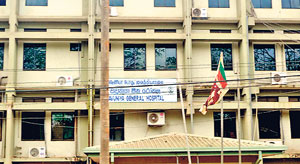 A hospital crying for more facilities
Adding to the crisis is the outbreak of dengue in Vavuniya. Health authorities believe the population increase after IDPs were allowed freedom to leave the camps is one of the reasons for the spread of the disease. They say treating a large number of patients is like fighting a major battle.
Patients are seen lying or sleeping on the floor in every ward. Hospital officials say a ward can accommodate not more than 30 patients but there are more than 100 patients in every ward.
Officials said the hospital had treated 697 dengue patients this year and recorded 17 dengue deaths. The gravity of the present situation is such that 370 cases or more than 50 percent of the total number of dengue cases were reported this month.
The Epidemiology Unit of the Health Ministry has also warned that with the present weather conditions and over population in the area, there could be more dengue cases in Vavuniya. Diarrhoea and chicken pox are the other common diseases, to which the people of the area have become vulnerable.
Hospital records show more than 20,300 diarrhoea cases have been reported since June this year and 16,924 chicken pox cases since January. Vavuniya also recorded the highest number of viral hepatitis cases this year, with 3,765 patients seeking treatment. This year, the hospital also treated 1,633 patients for dysentery and 678 for typhoid fever. Besides, tuberculosis is also on the rise, according to hospital records.
A health official said people seeking treatment came not only from Vavuniya but also from neighbouring areas. "Patients from Kilinochchi and Mallawi believe that the recently-opened hospitals in these areas lack facilities and equipment and therefore, they feel it is safer to receive treatment at Vavuniya. Patients also come from Cheddikulum and Poovarsankulum because hospitals there were overcrowded. In addition to these patients, hundreds of IDPs also come to the hospital to get treatment. With the current staff strength and resources, we are unable to cope with the situation," he said.
Despite this handicap, the hospital performed different types of surgery but it required more equipment for the operating theatre and the Intensive Care Unit, the official said. He said the hospital's maternity ward had also seen a sharp increase in admissions.