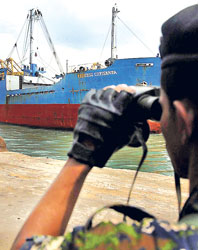 A soldier stands guard near the LTTE-owned ship "Princess Chrisantha" that was towed to the Colombo Harbour last week. Pic by Sanka Vidanagama
The LTTE arms transport vessel, "Princess Chrishantha", which was seized recently by the Sri Lanka Navy, will be anchored this morning opposite the Galle Face Green, Colombo.
Navy spokesman Captain Athula Senerath said the ship will be anchored close to the shore, where it can be viewed by the public.
In the evening, the ship will be taken to Galle Port to be part of the Galle Season 2009 Exhibition. It will be anchored at the Galle jetty, and members of the public will be allowed to go on board.
"SLN Sayura", a Navy offshore patrol vessel, will also be part of the Galle exhibition, Captain Athula Senerath said.
Government officials say the vessel was taken into custody, following information provided by detained LTTE leader K. Pathmanathan alias KP.