President Mahinda Rajapaksa addresses a rally in Kandy on December 21:
"The people know all about the person with 40 years of political experience and they know about the person with only 40 days of political experience. "The responsibility of safeguarding democracy will fall to the public, when they take part in the forthcoming presidential election.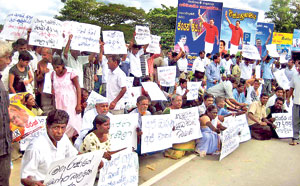 Supporters for ruling party candidate line the roads in Matara. Pic by Krishan Jeewaka Jayaruk
"Over the past 40 years, we led the Paada Yatra, the Jana Ghosha and human chain protests and agitations – all in order to protect democracy and human rights in this country.
"At a recent public meeting in Kandy, the UNP and Opposition leader Mr. Ranil Wickremesinghe repeated seven times that my family should be struck down by lightning. Was he asking that lightning strike my family because I gave one of my sons to the armed forces in order to defeat the LTTE? I request Mr. Wickremesinghe to desist from promoting vindictive politics.
"Opposition parliamentarians and members of local government bodies took part in those events, although they represented different political parties. They joined us because they believe in preserving democracy.
"We should remind you, that a secret agreement to divide the country was signed, and that we abrogated that agreement and worked hard in order to save the country.
"Over the past four years, this government launched a large number of development programmes.
"These programmes cover power, irrigation, infrastructure, ports and airports. We have never once slackened in our development programmes, nor did we ever slacken at the battle-front, during the war.
"Some prophets of doom said there would be power cuts in 2009.
But there have been no power cuts, and there will be no power cuts either today or tomorrow. We have planned well ahead by setting up a number of new power stations in order to meet the country's future electricity needs. "The roads and highways network had been vastly improved.
"We will continue to maintain this pace of development and momentum well into the future."
Veteran soldier primed to give a good election fight
General (Retd.) Sarath Fonseka addresses a joint UNF-JVP rally in Anuradhapura on December 22:
"In my 40 years in the Army, I served with dedication and honesty. Of these 40 years, 30 years were spent in the war zone. On becoming Army Commander, I was determined to eradicate terrorism from this country. I will be forever satisfied and happy that I was able to achieve this goal.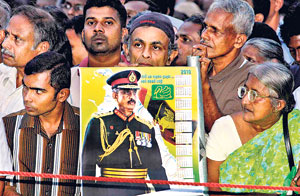 Crowd at General Fonseka's rally in Attalachena, Batticaloa. Pic by Saman Kariyawasam
"The war victory belongs to all members of the armed forces, the Police and the people of the country. I was the person who commanded the military operations against the terrorists. Without me, this victory would not have been possible. A politician who has built himself up as a cardboard hero and plasters every wall and lamppost with posters of himself and his party cannot alone take credit for the war victory.
"If a leader attempts to make political capital out of the sacrifices of the country's patriotic soldiers and warriors, that person cannot be a genuine patriot. A true leader who truly loves his country will not stoop to such low tactics.
"After the war victory, the University of Sri Lanka sent out letters expressing a wish to award honorary doctorates to the President, the Defence Secretary, and the Commanders of the three Armed Forces. But what happened was that the President and the Secretary received the academic accolades, while we had to sit in the audience and applaud them.
"I could have served for another one-and-a-half years in the Army, but I was disillusioned. I could have stayed on and enjoyed all the trappings of high office.
"I had 600 security personnel and 25 vehicles allocated to me. I was assured of a front-row seat at any high-level function. After one-and-a-half years I could have gone out as an ambassador for Sri Lanka to any world capital. I could have got all those things if I had approved of the destructive path that President Mahinda Rajapaksa is taking this country down.
"Instead, I said goodbye to my Army uniform. I have come forward to serve the people of this country."