It was another beautiful but cold morning in Melbourne. We were just passing the scenic Yarra River in a green Toyota Camry. The driver was none other than Sifu Tong Low, described as Australia's Crouching Tiger by the UK Martial Arts Magazine 'Combat'. Sifu Tong, who runs one of Australia's famous Wushu Schools with Sifu Tang Lai Wei ,the training partner of Li Lianji or Jet Li as the world and Hollywood fans have known him. He and I were heading to meet one of the martial arts giants in the World, or a living legend, Grand Master William Cheung.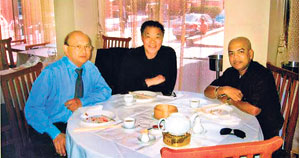 Sifu Tong Low, Grandmaster William Cheung and Manel.
It has always been one of my dreams to meet this great martial artist who holds the World record for 8.3 punches per second, set up in USA some decades ago. But that was not the main reason for me to see him. I wanted to see Bruce Lee's best friend.
I also wanted to see Bruce Lee's martial arts teacher who taught him Kung Fu. I also wanted to listen to some true stories of Bruce Lee from the most reliable person who lives today. All these prestigious and reliable sources are with one person: Grand Master William Cheung.
A few minutes later Sifu Tong parked his car at a parking bay in Longsdale Street and we walked towards the Level 02 of No. 111 where the legend lives.
A few seconds later we were welcomed and taken in. Then came the great man. 'Ni Hao' and a firm hand shake. Sifu Tong being Grand Master William Cheung's longstanding friend has previously told him about me as the Secretary General of Wushu Federation of Sri Lanka, Secretary General of South Asian Wushu Federation and an International Wushu Judge and Referee. Grandmaster William Cheung was the first President of Australian Wushu Kung-Fu Federation and still the President of World Wing Chun Kung-Fu Association which he founded some decades back. He was so happy to see me as he has heard a lot about my beautiful paradise isle, Sri Lanka. "Unfortunately I have not taught any Sri Lankan personally," Grandmaster said while we were talking.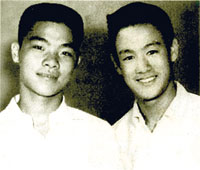 Young William Cheung with Bruce Lee
He called in his secretary to take photos with me and Sifu Tong. The great man is a very calm, pleasant and more importantly a very friendly person. Though he is one of the busiest in Melbourne we could not refuse his invitation for lunch. The three of us, walked down to Longsdale Street and then to adjoining China Town. I saw how 'Melbournerun' (In Chinese, Melbourne people) respect him while we were walking down China Town. Everybody made way for him and greeted him. They are proud of this great martial artist, I realized.
When he was ordering the food Sifu Tong was surprised. Grandmaster ordered many meat dishes to Sifu Tong's surprise as he knew that grandmaster was a vegetarian. Then he revealed that he has given up being a vegetarian. But I was not waiting for any food but for stories of Bruce Lee and asked him how he met the Little Dragon.
'I first met Bruce Lee at a party,' he revealed. 'My uncle knew a lot of Chinese operatic artists and Bruce's father was one of them. When I was about 10 or 11 years old he took me to a young movie star's birthday bash and Bruce was there. At that time Bruce was a popular child star in Hong Kong so he did not care for me. I don't know whether he knew I was there or not', said the humble Grandmaster. "Bruce had a lot of trouble during his elementary school days," said Grandmaster.
"He hit many overgrown schoolmates and had a lot of trouble." At that time young William Cheung was a student of Grandmaster and Professor Yip Man's Wing Chun Kung Fu School and was notorious for beating many senior boys of his school. Hong Kong was famous for street gangs and Bruce had one too. It was named "Junction Street Eight Tigers" and one of young William's classmates was also a member there. So Bruce wanted to know how William always managed to win his fights. Then he told him about Kung-Fu and Bruce immediately wanted to learn it. "On an autumn day in 1953 I took Bruce Lee to Grandmaster Wing Chun Kung Fu, Prof.Yip Man and he was so pleased to accept this young film star. That was Bruce Lee's first martial art experience, said Grandmaster Cheung.
"After that there was no stopping Bruce", said Grandmaster. Bruce had started practicing every minute of the day. Grandmaster Yip Man has given him personal attention to him as he was so talented. Bruce was very fit and talented." However in 1956 Bruce became a big problem for Yip Man. Because of his talents and he progressed so quickly other seniors thought Bruce was a threat to them. Bruce always challenged and defeated his seniors. Then they demanded Yip Man to stop teaching Bruce as he was not fully Chinese but quarter German (Bruce's mother was half German). Very reluctantly Yip Man agreed," said Grandmaster. But Yip Man was so fond of Bruce Lee and asked his best disciple Cheung to take care of him and teach him. After Bruce left school and Cheung moved back home with his parents Bruce Lee trained almost exclusively with him."
Bruce started visiting me and practiced with me at my parent's farm in New Territories every weekend when he wasn't working in a film until I left for Australia. Our luncheon meeting never seemed to end. Grandmaster was so sad about his friend's son, Bruce Lee's death. "It was not accidental" he said.
I had a lot to ask him but we all had to leave. Grandmaster was having a meeting in Perth the following morning and I had to leave for Sydney the next day. Grandmaster invited me to dinner with him on his return and both of us, Sifu Tong and me, agreed happily but never made it with my busy schedule. But I am longing for my next visit to Melbourne to meet this great Martial Artist and Legend to learn more from him.