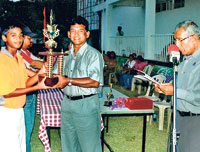 Achala Dias (Captain) Tendulkar House receiving the U-14 winner's trophy from Hemantha Devapriya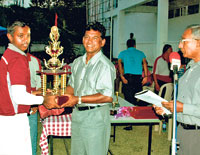 Sanjula Ratnamudali (Captain) Sobers House receiving the under13 winner's trophy from Hemantha Devapriya
Jayasuriya House won the Overall Championship title defeating Tendulkar House at the CCC School of Cricket Inter-House six-a-side cricket tournament held at Thurstan College Grounds. Hemantha Devapriya, former Sri Lanka cricketer, Sri Lanka A team coach and present coach of NCC was the chief guest.
Following are main award winners: Team Championships – Under 10 Tendulkar House (Capt Mathiyas Samaraweera); Under 11 Jyasuriya House (Capt Yoshitha Atukorale); Under 12 Jayasuriya House (Capt Ayesh Weerratne); Under 13 Sobers House (Capt Sanjula Ratnamudali); Under 14 Tendulkar House (Capt Achala Dias); Under 15 Jayasuriya House (Capt Minhaj Jalil); Over 15 Tendulkar House (Capt Primesh Dasanayake).
Individual Awards (Man of the Final): Under 10 - Sajana Nakandala (Tendulkar); Under 11 -Krishikan Raveendranathan (Jayasuriya); Under 12 – Gavin Karunaratne (Jayasuriya); Under 13 – Kavindu Perera (Sobers); Under 14 - Janith Liyanage (Tendulkar); Under 15 - Minhaj Jalil (Jayasuriya); Over 15 - Primesh Dasanayake (Tendulkar).
Most Promising Young Cricketer of 2009 - Janith Dias (Bradman). Overall Inter-House Championship winner – Jayasuriya; First Runner-up : Tendulkar.