Referees have been in the news and at most times; it is bad news. .There is often aspects that most people forget and or fail to appreciate. If you do it will be the basic. These include the elements that make a good referee but never the dangers he faces on the field and the moments that make him laugh nor the human qualities.
They tell you to be a good referee: you should have an excellent knowledge of the game, learn from mistakes, be very fit, and go about your job. To be calm under pressure, be able to handle players with respect and authority.
The referee will be watched, listened and continuously criticized. Mostly by those who referee from their comfort zone. That is seated comfortably on a chair in the pavilion. Yet forget that the referee stands intimated on the field surrounded by thirty guys, all much younger and bigger than him on most occasions. If that is not enough he has to put up with moaning players, nitpicking coaches and the media tearing you to pieces. Nobody expects him to have an off day, which luxury they will allow the players.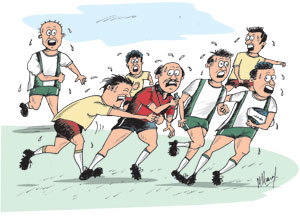 There is also the fun side while being dangerous out there. Not because somebody is waiting to throw a punch at you. It is because you have got caught in the run of play. I came across an interesting video clip on a site called rugbydump.com (Friday Funnies: Ref it is dangerous out there) which shows incidents where it has been risky for the referee to be out there.
This video was apparently thrown together by someone at the IRB as stated on the site. Sometimes getting to the ruck and staying up with the action has been on the hazardous side. Besides the bad collisions, notable funny clips include Steve Walsh catching the ball in a test match, and Paddy O'Brien blowing the whistle from the floor.
The dangers facing a referee as he gets close to play or keeps up with play are seen. The bottom line is what the referee has to consider and be aware of as he gets to the ball and ready to whistle or not and what law the player has infringed. Next time you shout and condemn the guy in the middle for not being there, spare a thought conscious that the referee has to avoid becoming a prop sandwich.
Perhaps it's safer for those lazy referees who are never up with play and stay out of the danger zone. The hilarious but dangerous side as seen from clips, of top level referees, has had its times in Sri Lanka too. As I watched a referee caught in a furious maul I remembered one of ours being caught in a similar manner. It was funny seeing Kevin Lappen struggling to pull his hand out was when he was refereeing a ladies match. A front row forward had bitten his hand as he gave the scrum engagement call and delayed to take the hand out.
I also saw many incidents of Touch Judges (Assistant Referee Now) getting tackled as they stood at the corner flag or ran close to the line. It reminded me of a similar incident in Kandy during a Clifford cup knock-out match. This was where two big Fijians ended tackling me by the corner flag. The referee Roshan Deen comes up and says: "I came to see whether you were still alive". With great difficulty I ran to the next phase. I was reminded by the crowd that it hurts when tackled by a Fijian. They were advising me to rub down my bruises and not feel ashamed.
I also remember a day when Orville Fernando was seen virtually doing a dance at the far side of the CR grounds. Referee SW Chang walked up wondering why; the reply from Orville was: "Before the Fxxxxr killed me I killed him". Lying close was a reptile trampled to death as he was snaking his way towards Orville. That was what the dance was about. Kevin Lappen once had a dog chasing him as he ran the line in Kandy. What we could not understand was what sense this police dog had to bite off Kevin's rear. Which was void of flesh?
The crowd is another story of being funny at most times, nasty otherwise. I remember a comment made about the skinny legs of Pala. Another joined to say that once skinned the bones are not enough for a soup. Another was the guy who kept shifting his place shouting "from when have Chinese started to referee rugby." He had a good sense of humour. He kept the referee guessing as he shouted from different places while being of Chinese origin himself!
Ever been hit on the head with an umbrella by a lady as the referee walked away from the field? Have you stayed in a toilet till the angry crowd has walked away? Yet why do these guys referee?
There was this referee who saw a scrum half kicking a flanker and pulled him up. The Captain walks up and pleads don't bin him it is his first offence .The referee says calm down, calm down I am not going to bin him and pretends to walk away. Turns back and says it is not a bin it is a red card. Calm as he was, it is true.
Vimal Perera is a former Rugby Referee, coach and Accredited Referees Evaluator IRB