Like the popular song "If tomorrow never comes," exactly, one year ago that tomorrow never came for Channa, removing from our midst a cricketing great who like his father Dr. C.H. Gunasekera (Snr.) thrilled the cricketing public of a different era. Both father and son embodied the true spirit of the gentlemen's game to the letter. In fact Channa who obviously had these characteristics passed on to him by his beloved father proved that what mattered to him was the purity of the game and its gentlemanly qualities when he had no hesitation whatsoever in calling back a Thomian batsman in 1949 when he was the Royal College skipper seeing that the batsman was run out after colliding with a Royal fielder while attempting a run. This was in spite of S. Thomas' being 55 for 3 wickets and his action probably costing a Royal Victory.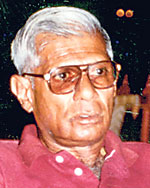 Channa Gunasekera
Channa was also an outstanding athlete at College level and proved it beyond doubt when he once beat the well-known hurdler the late Lakshman Kadirgamar at a house meet and also when he cleared the 5ft. barrier in the high jump event as a mere 15 year old. However his love for cricket prevailed and he went on to make his presence felt at School, Club and International level in no uncertain terms with some epoch-making performances. Channa's outstanding achievements as a schoolboy cricketer made him an automatic choice to make up the combined Colleges team that met the touring West Indies side in 1949.
Channa while also a schoolboy represented the Sinhalese Sports Club in the Saravanamuttu Trophy Tournament and showcased his fabulous talents as a batsman which subsequently saw him catch the eyes of the National Selectors which saw him represent the country from 1951 to 1958 against the likes of England, Australia, India and the Commonwealth team which came here.
Against Australia in 1953 Channa became the highest scorer of the local batsmen who confronted them in the whistle stop games when he made a solid 66 not out against them. Channa also made nine centuries for his Club S.S.C. and the icing on the cake was when he led them to clinch championship honours in the 1961/62 season. He also made enormous contributions playing for the C.C.A in the now defunct Gopalan Trophy matches against Madras with his personal best being 181 not-out.
Sometimes one wonders whether the landmarks set by both father and son are merely coincidental. However knowing Channa he would not be at peace with himself until he pushed himself to achieve some of the goals set by his illustrious father Dr. C.H. Gunasekera (Snr).
It is to his credit (Channa's) that he was able to equate most of his senior's achievements on the cricketing field. To name a few: (1) both father and son walked into the Royal 1st XI at 15 years of age. (2) They were the first father and son combination to captain Royal College (3) Both father and son scored centuries against Wesley College (4) Both were successful captains of the S.S.C. (5) Both were elected members of cricket's highest body, the M.C.C.
Incidentally Dr C.H. Gunasekera (Snr) was a former All Ceylon captain and the very first Ceylonese to play Country Cricket for Middlesex and was also an outstanding tennis player at Cambridge University just missing his Cambridge Blue because World War I intervened in 1914. One could easily conclude that Channa H. Gunasekera was indeed a chip of the old block and one wonders when Sri Lanka will once again have the privilege of producing a father and son combination of cricketers who were simply outstanding.