Skipper Dulanjana Wijesinghe and Raninda Sooriyakumar gave Wesley a flying start as the duo combined to help the side start on a winning note in the Under 19 inter-school cricket season by guiding the side to an easy nine wicket win over Sri Jayawardenapura MMV at Kotte yesterday. Wesley guided by coach Dinesh Kumarasinghe are recording an outright win after a lapse of five years.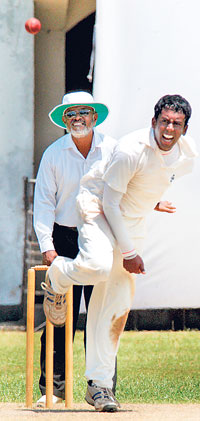 D.S. Senanayake skipper Malshan Munasinghe in action at Darley Road yesterday. (Pic Ranjith Perera)
The duo cracked half tons with Dulanjan making 78 inclusive of seven boundaries and a six while Raninda made 66 with eight boundaries and three sixes. They were also involved in a 114 runs stand for the second wicket enabling Wesley to make 234 for 6 after bowling out the home team for 91.
The home team batting the second time fared better as they managed to erase the deficit of 143 runs to make 191. But the target given to Wesley was just 49 runs which skipper Dulanjana helped to reach with his pinch hitting batting where he scored 40 of those comprising eight boundaries and a six in the process.
Sri Jayawardenapura MMV 91 (B. Wickramasinghe 24: Raninda Sooriyakumara 3 for 8, Sachin Jayawardena 2 for 13, Daniel Bartolomeusz 2 for 30) and 191 (S. Samaranayake 39, S, Samarasinghe 39, K. Maduranga 34: Ashel Kariyawasam 4 for 26, Basith Muzzamil 3 for 26)
Wesley 234 for 6 declared (Dulanjana Wijesinghe 78, Raninda Sooriyakumara 66, Ashel Kariywasam 29, Denuwan Dassanayake 27, Migara Wickramasinghe 21: K. Maduranga 3 for 38) and 52 for 2 (Dulanjan Wijesinghe 40 n.o.)
Anuja,Madushan match winners
S. Thomas' Mt Lavinia defeated Joseoh Vaz Wennappuwa by six wickets in their Under 19 encounter at Wennappuwa yesterday. It was man in form Anuja Fernand who laid the foundation for the Thomians with another fine knock of 81 which included nine boundaries and two sixes. His knock helped the Thomians declare their innings after making a formidable 250 for 9. Later 14 year old right arm leggie Madushan Ravichandrakumar took over as he tormented the Joseph Vaz batting in both innings. His 5 for 14 in the first inning saw the home team crashing to 95 and he again followed it up with another five wicket haul to bolw out the Vazians for 197. Madushan in the process ended with a match bag of 10 for 59. Thomians set 43 for victory reached the target losing four wickets.
S. Thomas' 250 for 9 declared (Anuja Fernando 81, Chamod Pathirana 33, Kavindu Perera 28, Nuwan Dharshana 27, Neomal Wickramasekera 27: Sineth Kalhara 3 for 52, Primash Obris 2 for 28, Sahen Meritas 2 for 47) and 43 for 4 (Nuwan Dharshana 20 n.o.)
Joseph Vaz (52/3 o'night) 95 (Sahen Meritas 30, Kasun Vidura 17: Madushan Ravichandran 5 for 14, Lalindra Peiris 2 for 20) and 197 (Yomal Thimothy 66, Sineth Kalhara 38, Primesh Obris 31, Vishva Deemanth 20: Madushan Ravichandrakumar 5 for 45, Nuwan Dharshana 4 for 28)
Match drawn at Bambalapitiya
Denham Perera and Angelo Emmanuel cracked half tons with the pair putting on 133 runs for the third wicket which helped St. Peter's make 321 for 8 in their drawn match against Mahanama at Bambalapitiya yesterday.
This was in reply to the mammoth score of 362 for 9 made by Mahanama. Mahanama innings was due to a fine knock of 129 by Duleeka Tissakuttige supported by another knock of 69 from Randika Welikannage.
Mahanama 362 for 9 declared (Duleeka Tissakuttige 129, Randika Welikannage 69, Lahiru Weerakoon 45, Chathura Wanniarachchi 34, Hashan Perera 29, Chathura Jayasinghe 18: Shanendra Fernando 3 for 66, Sudath Jayaweera 2 for 10, Sampath Kumara 2 for 42)
St Peter's 321 for 8 (Angelo Emmanuel 96, Denham Perera 77, Roshane Saverimuttu 30, Dirk Muller 27, Sidath Jayaweera 21, Sampath Kumara 50 n.o.: Randika Welikannage 3 for 48, Devinda Pawan 2 for 74)
Supechala, Chathuranga impress
Two fine performances by Supechala Jayatileke who finished with a match bag of 11 for 95 and an unbeaten ton by Chathuranga Kumara were the highlights in the drawn Under 19 match between St. Joseph's and DSS at Darley Road yesterday.
DSS 195 (Malshan Munasinghe 56, Wasuki Watakapotha 53, Chamod Wickramasinghe 23 n.o.: Supechala Jayatileke 5 for 47, Dinal Dambarage 2 for 42) and 134 for 8 (Chanaka Ratnasiri 38, Wasuki Watakapotha 31, Lasitha Abeyratne 23 n.o.: Supechala Jayatileke 6 for 48, Dinal Fonseka 2 for 33)
St. Joseph's (63/1 o'night) 332 for 9 declared (Enrico Silva 51, Rosco Thatil 51, Supechala Jayatileke 36, Vidusha Jayasinghe 20, Chathuranga Kumara 100 n.o.: Malshan Munasinghe 5 for 93)
Randika gives Maznodians easy win
Left arm spinner Lakshan Randika's match bag of 9 for 68 helped De Mazenod record an easy innings and 40 runs win over President's College Rajagiriya by an innings and 40 runs at Kandana.
President's Rajagiriya 122 (Harshana Perera 25, Thilina Madusanka 22; Lakshan Randika 5 for 38, Wateesha Jayasuriya 3 for 12) and 80 (Achala Dias 22, Harshana Perera 17 n.o.: Lakshan Randika 4 for 30, Wateesha Jayasuriya 3 for 10, Sachith Vishwakula 2 for 9)
De Mazenod 242 (Sakvithi Perera 51, Jude Madushan 30, Lakshan Rodrigo 25, Supun Gayashan 25, Tharindu Costa 25, Nipun Kariyawasam 21: Achala Dias 3 for 56)