On November 10, 2007, ex-Sri Lanka skipper Marvan Atapattu unleashed a surprise attack on his country's selectors and the cricket board. This was on the third day of the first Test against Australia at the Gabba in Brisbane.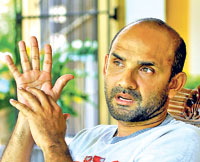 Marvan in a pensive mood (Pic by Sanka Vidangama)
In a telling verbal onslaught, he said: "Sri Lanka cricket is not going in the direction it should be going, especially with the muppets in the set-up headed by a joker. "I don't give credit to the way they have handled things. If they had handled them well, we would have had a good back-up (of players) but at the age of 37 and 38 people have to come and play for Sri Lanka in a tough tour like this.
"The selectors are there only to go on tours and getting whatever they are getting and that's a waste of time." This lashing by Atapattu came in the aftermath of how he was treated at the 2007 World Cup where Sri Lanka ended up as the runners-up to Australia with the former captain, who was a member of the squad, taking no part in it.
However, after a two-year silence Atapattu has now decided to break the story and tell the public of what really transpired during that critical period of his career. "I was the one who sat with the selectors as captain and decided as to who was to make the World Cup tour to the Caribbean, and what transpired thereafter is still a real puzzle to me," he said.
Atapattu said that shortly after this meeting, he was injured and his deputy Mahela Jayawardena stepped in as stand-in captain. But, once he overcame the injury in time for the Indian tour, authorities had let Jayawardena continue.
"We had just discovered the talents of opener Upul Tharanga and he was so promising that I decided to go down to number five in a bid to cushion the middle order and let the youngster open the innings with Jayasuriya.
"It was Jayasuriya to open with Tharanga, Mahela to bat at number three, Kumar Sangakkara at four and I was batting at number five. However when Tharanga had his initial slump, once again the coach and the captain came and asked me if I could bat at the top. I agreed. I remember in India when I opened again Chamara Silva batting in the middle scored a brilliant hundred. Thereafter we left to the West Indies on that note."
Atapattu recalled that in the first warm-up game Sanath Jayasuriya did not play and he had to open batting with Upul Tharanga. In that game Tharanga scored a telling century that contained an array of strokes. Then when the World Cup real came on Tharanga began to fail once again, but, he was even intimated as to what his position was in the tour squad.
He said, "At that point no one from the management came up to me and said what was going on or what my future was going to be. I just couldn't accept it, it was just the other day that I was sitting and deciding what our World Cup composition was going to be and here I was wandering about it, without a part to play.
"In short there was no one who had the guts to tell me this is what your role is going to be and this is what has happened. I just felt that this is the reward I was getting for all that I had done and especially in that last Indian tour where I batted well, when the rest of the batsmen were failing.
"Always my role in one-day cricket was different. I am a technically correct batsman. I had a task. Like Asanka Gurusinha before me, I had to stick around, rotate the strike and basically hold on to one end while the others did the scoring."
After the World Cup, Atapattu said, he was dropped for the next tour – Sri Lanka's tour to Abu Dhabi. "Then there were rumblings about my age and other things, but no one came up and spoke to me. If there was a dialogue it would have been okay, but it did not happen so. Then I went to England and played some cricket even though it was not very competitive."
In Sri Lanka, in preparation for the next tour to Australia, the selectors had called Atapattu for a meeting, but he had opted out of it. "I was in the West Indies during the entire World Cup. No one spoke one word to me and back in the island once again they did not bother to do so. So I had lost confidence in them.
"Though the selectors did not include me in the tour party, the Sports Minister did -- and I went on the tour. There I met the coach and said that I do not intend going behind any one to be in the side and I had decided to call it a day and did just that."However, all this began some time before. In one tour the selectors had left out T.M. Dilshan and selected Jehan Mubarak instead. As captain, I protested and even the other seniors were not happy with the decision.
Then I told the chief selector at that time -- Asantha de Mel -- about my views and he promised to call me back immediately. The call never came. I called the then Sports Minister Jeewan Kumaratunga to intervene, but he too could not do anything. Then upon our return to the island one of the selectors charged that I had no business to approach the minister.
"But, subsequently the then SLC chairman Thilanga Sumathipala pulled up the selectors and berated them for upsetting the apple cart. I feel that from that point on I was a marked enemy".