The first announcement, as most Sri Lankans prepared to retire to their beds on Thursday night, came just before a special Sri Lankan Airlines non stop flight touched down at the Bandaranaike International Airport. It had taken off from the Kuala Lumpur.
State-run TV networks interrupted regular programmes at 9.35 p.m. to give the breaking news. It was that a Tiger guerrilla leader responsible for many assassinations and attacks was arrested together with another. It was almost an hour later when the details emerged.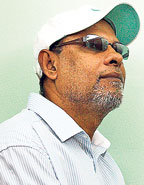 Bearded Pathmanathan in sun glasses. He looks different now
It was none other than the most wanted Kumaran Pathmanathan. Two weeks earlier, he had been declared successor to the late Velupillai Prabhakaran as leader of the Liberation Tigers of Tamil Eelam (LTTE). The man with many names, different faces at different times held several passports. Law enforcement agencies of a number of countries hunted for him but he eluded them.
For years, he headed the LTTE's weapons procurement operations, named after his initials as KP wing.
Pathmanathan, one source said, looked altogether different from the images projected in recent photographs. He was bald and wore a flowing thick, grey beard. Though in the media limelight, he had chosen to move around incognito. Though another person was reported arrested, it was only this man, who resembled a trader of sorts was escorted under heavy security from the airport to a secret location. An acute diabetic, Pathmanathan appeared worn out when he arrived. He was hand cuffed the source said.
Thursday night's news came as a surprise not only to those in the upper echelons of the Government but also to most in the security establishment. Those who telephoned each other were to come up with a stock answer - I just heard about it but do not know any details. President Mahinda Rajapaksa telephoned Foreign Minister Rohita Bogollagama, who was celebrating his 55th birthday that night to give him the news. Intelligence sleuths from one arm denied any knowledge to those in a partner organization. It fueled suspicions that each other was aware but were not willing to talk.
As news of the arrest spread worldwide, it was to cause ripples. A news agency report quoted the Military Spokesman as saying Pathmanathan was arrested in Thailand's capital of Bangkok. Thai Prime Minister Abhisit Vejjajiva, reacted promptly by denying the claim. His spokesman and the Cabinet's Deputy Secretary General, Panitan Wattanayagorn told The Sunday Times the Prime Minister had checked with the state agencies concerned. "He was informed by them that KP was not arrested anywhere in Thailand. The Prime Minister has directed that these agencies forward him more reports with details of developments," he said speaking on the telephone from Bangkok.
He said the Thai Government had followed the news conference in Colombo held by Defence Spokesman Keheliya Rambukwella on Friday afternoon. The latter refused to identify the country where the arrest was made but the successful operation showed "we had friends," he declared. Officials in the Sri Lanka Embassy in Bangkok were also taken by surprise and were checking with Thai authorities and the media there. Later, they also denied the claim.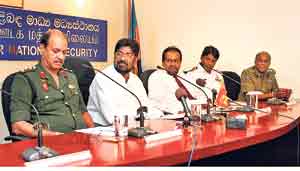 The two spokespersons - Brigadier Udaya Nanayakkara (military) and Minister Keheliya Rambukwella (Defence) at Thursday's news conference.
Other agency reports quoted Thai police as saying KP was arrested in Singapore and was only in transit through Bangkok early Friday en route to Colombo. However, Singapore's Ministry of Home Affairs denied its involvement in the arrest. "There is no basis to the claim in media reports that the LTTE leader Selvarasa Pathmanathan has been captured in Singapore," a ministry official said.
I spoke on the telephone with a senior Thai security official. "I can tell you categorically that he was not arrested anywhere in Thailand," he said speaking on grounds of anonymity since he is not authorised to talk to the media. He said no aircraft with Pathmanathan touched down or took off from Bangkok. "We have heard he was picked up in Kuala Lumpur but that is a matter for you to verify," he said. He declined to elaborate.
A website widely accessed by Australia's Tamil diaspora, (http:www.tamilsydney.com) quoted a news website (in Tamil) saying Pathmanathan was arrested in Kuala Lumpur. This is what the report said;
"Head of Department of International Relations, LTTE , Kumaran Pathmanathan alias KP has been arrested in Malaysia and transported to Sri Lanka, said a Tamil news website. Mr. Pathmanathan was strongly advocating politico-democratic path to achieve Sri Lankan Tamil's political aspirations.
"The Tamil website says he had been abducted when he went to "Tune Hotel' in a place called 'Majid India' in Kuala Lumpur on Wednesday afternoon. He had gone there to meet the brother and son of B. Nadesan, the Political Head of LTTE.
"When he was with them in their room in the hotel, Mr. Pathmanathan has received a call to his mobile phone around 2 pm. He had excused himself and had gone out to attend the call in private.
"People close to Pathmanathan realised his abduction only when they came to know that he has not returned to the hotel room after attending the phone call.
"According to information available he had been abducted by Sri Lanka Intelligence Unit with the support of either Malaysian Military or Intelligence Unit. At the same time, Tamil circles feel the blessings and support of another important country's intelligence unit in Mr. Pathmanathan's abduction.
"Yesterday Sri Lankan Military informed that Mr. Pathmanathan was arrested in Thailand. Tamil circles feel that this was to divert the involvement of Malaysians and another country in the abduction."
The website posted a picture of a bearded Pathmanathan in sun glasses. However, his appearance was in marked contrast to the description available after his arrest. According to Government sources, only less than a handful were aware how the arrest was made but declined to discuss any details. However, these sources insisted that local intelligence units were not involved in any abduction attempts on Pathmanathan. They said such a course of action would have violated the laws of the country where he was arrested.
The Tune Hotel is a five-storey complex with 222 rooms. It is located at Jalan Klia in Kuala Lumpur, some 15 minutes drive from the international airport. The brother of late P. Nadesan, a one time "guerrilla police chief" and later head of the political wing, has been identified only by his nom de guerre, Lucas. He was reportedly at the hotel with his son. He is said to be living in Britain and arrived in Kuala Lumpur. Even in the Malaysian capital, where the arrest was reportedly made, a fact not confirmed by the Sri Lankan Government, there was confusion. Newspapers there reported Prime Minister Datuk Seri Najib Tun Razak had no knowledge. "I cannot confirm this. I don't have the facts with me. I will find out about the matter first," he told reporters after launching the Majlis Jalinan Rakyat at the people's housing project at Batu Muda, Jalan Ipoh in Kuala Lumpur on Friday. Malaysian national police chief Tan Sri Musa Hassan said he knew nothing about an arrest and declined to comment further. However, unlike in the case of Thailand and Singapore, there were no official statements from Malaysia.
Earlier on Thursday, reports circulated in some diplomatic circles said that Pathmanathan had not been heard for nearly one and half days. This was after regular telephone callers to him from the United States and Canada found he could not be reached since Wednesday. They were reportedly making frantic efforts to speak with him when news broke that he has been arrested and flown to Colombo.
The arrest of Pathmanathan, particularly in the wake of the military defeat of Tiger guerrillas, is a major achievement for President Mahinda Rajapaksa's administration. With the guerrilla military capability destroyed, the Government's concern turned to LTTE's international operations. Efforts by Pathmanathan and a group to revive the guerrilla organisation became the cause for greater worry. This is particularly in the light of his increasing media exposure. In June this year Pathmanathan circulated to the Tamil diaspora overseas, Colombo based diplomatic missions and foreign Governments a voice recording. He spoke about a "Provisional Transitional Government" to represent the "political aspirations" and to be "the voice and conscience of the people of Tamil Eelam in the international arena." Backing him in this effort was Rudrakumar Viswanathan, a New York based lawyer who was advisor to the LTTE during Norwegian-backed peace talks and a group of others. A Committee that was formed by the group named Pathmanathan as successor to late Prabhakaran.
Foreign Minister Rohita Bogollagama declared in an aide memoire he personally delivered to several Asian nations that the demise of the LTTE in Sri Lanka had not diminished its activities, its front organisations and its overseas groups. "We have received credible reports that some of the LTTE groups and LTTE actors overseas remain committed to the extreme ideologies and positions that have been discarded by the communities living in Sri Lanka. Among the countries that received the aide memoire were Malaysia, Vietnam, Bangladesh, Thailand and the Philippines.
Here are excerpts from the aide memoire of June 2009:
"A prominent LTTE member who is wanted in Sri Lanka in connection with terrorist attacks, arms smuggling and drug dealing, Mr. Selvarasa Pathmanathan a.k.a. Kumaran Pathmanathan, a.k.a. "K.P," is still operating overseas on behalf of the LTTE and mobilising LTTE cadres and supporters abroad. His actions could vitiate and destabilise efforts by the Government to develop a peaceful political solution to address the grievances of the Tamil community. An international warrant has also been issued on Pathmanathan by INTERPOL following a warrant issued by the Sri Lankan Courts as a person wanted for questioning by the Criminal Investigation Department pertaining to his role in connection with the bombing of the Central Bank in 1996 killing 86 civilians and injuring 1338.
"Mr. Pathmanathan is wanted for questioning by the Criminal Investigation Department (CID) of the Sri Lanka Police for his involvement in: (a) the bombing of the Central Bank in 1996; and (b) arms procurement overseas for terrorist activities in Sri Lanka. Mr. Pathmanathan is also listed by INTERPOL for alleged involvement in the murder of former Indian Prime Minister Shri Rajiv Gandhi on 21 May 1991 in Tamil Nadu, India.
"In the circumstances, the Government of Sri Lanka urges friendly Governments to take cognisance of this and take urgent action as follows:
"(a) Apprehend Mr. Selvarasa Pathmanathan and deport him to Sri Lanka so that he can be held accountable for the crimes he has committed on Sri Lanka soil;
"(b) Initiate efforts to restrain and interdict inimical action by pro-LTTE elements abroad so that the ongoing process of consultations in Sri Lanka to achieve a political solution acceptable to all communities living in Sri Lanka could proceed unhindered enabling successful conclusion without delay.
"A brief note on Mr. Selvarasa Pathmanathan, his activities and implications of his activities is appended below:
Selvarasa Pathmanathan a.k.a. Kumaran Pathmanathan a.k.a. "KP" has functioned as the chief arms procurement operative of the Liberation Tigers of Tamil Eelam (LTTE) throughout the LTTE's terrorist campaign.
The LTTE is an internationally proscribed/listed terrorist group including in Canada, India, 27 European Union (EU) countries, UK and the USA.
Pathmanathan is known to use several aliases and holds a number of different passports and identities to facilitate his operations and evade detection.
Pathmanathan is believed to have obtained at least 16 passports from different countries to facilitate his operations and disguise. These include Sri Lankan, British, Indian passports. Intelligence information suggest the possession of Thai (he is married to a Thai), Indonesian, Malaysian, French and other passports. This is indicative of the clandestine international operations of Pathmanathan on behalf of the terrorist group.
Pathmanathan's links on behalf of the LTTE with the illicit arms dealers are known to be extensive, spanning across Afghanistan to the former Soviet bloc, former Yugoslavia, Middle-East, Africa, East-Asia including Singapore, Thailand, Malaysia etc.
Pathmanathan, a relative of LTTE leader Prabhakaran is one of the leader's closest associates and the most trusted senior LTTE leader overseas. Pathmanathan was entirely responsible for elaborate arms procurement operations for the terrorist group and the connected co-ordination of payments of large sums of money for the ordnance. He was thus an integral part of the elaborate terrorist network of the LTTE overseas.
Pathmanathan's operations include functioning as Head of the "KP" branch which was the dedicated arms procurement branch of the LTTE.
Pathmanathan's arms procurement operations are extremely secretive and the individual possesses a large network of contacts and links to the international illegal arms trade.
Since January 2009, particular attention has been placed by the LTTE to project the prominent role played by Pathmanathan in the terrorist group.
Additionally, following the death of the LTTE leader in Sri Lanka, the subject and those closely associated with him have been attempting to project Pathmanathan as the "leader in exile" of the LTTE - a proscribed terrorist organisation - and has gained access internationally to Government officials in countries such as Norway, and senior international civil servants in the UN system.
This is despite Sri Lanka's request to the International Community in early March 2009 to refrain from giving such access.
It is known that Pathmanathan was particularly active in the failed attempts by Prabhakaran and other leaders to escape from the military's advancement in the final days of the humanitarian operations.
Despite his extremely secretive operations, evidence has emerged of Pathmanathan's involvement in securing for the LTTE, major arms procurement consignments. For instance:
MV SWENE carrying 60 tons of C4 explosives consigned to M/S Carlton Trading Co. Ltd., 60/61, Delugh Commercial Area, Dhaka, Bangladesh and a consignment of detonators consigned to E G C T International Ltd., Rangoon, Burma had left port of Nikolaev on 19/8/94 and sighted past Istanbul on 25/08/94. There had been no record of her voyage till she was reported leaving the Port of Lagos for the Port of Banjul in Gambia and intelligence indicated that in the intervening period of this north bound voyage she had off loaded the cargo to LTTE having entered the Indian Ocean.
The explosives had been purchased from Rubezhnoe Chemicals Plant "ZARYA" in Lugansk Region, Ukraine using end user certificate No: DP 816955 in the name of H.D. Hashin Noor Rahman. KP transferred US $ 50,000 from City bank account in Singapore in June 1994 to the Chemical Plant. These are the explosives used by the LTTE to carry out suicide missions, land mines, massacre of civilians etc. in Sri Lanka.
MV SUNBIRD which was detected in Malaysia with communication equipment, underwater equipment, high speed boats etc in December 90 shed light to the involvement of KP who was Director of Vikram Holding.
Given the linkages the LTTE has sought to establish with other terror organisations (as instructed by the LTTE's 2003 Instruction Manual to Overseas Offices), the possibility of Pathmanathan further intensifying interaction with other terrorist groups is plausible.
The remaining LTTE overseas membership led by Pathmanathan has given rise to intensification of activities by the pro-LTTE diaspora.
This serious development is replete with examples of a trend particularly over the last three months. The activities of pro-LTTE groups have taken an extremely violent form as witnessed by the Group's attacks against Sri Lanka Embassies, persons of Sinhalese origin, businesses owned by Sinhalese and holy places of worship such as Buddhist temples overseas……."
Pathmanathan, who is being held in a heavily secured secret location, is now going through interrogation by security officials. He holds the key to a number of questions that have baffled successive Governments during the two and half decade long separatist war. That includes answers to all-important questions like sources of LTTE funding, arms procurement, supporters both abroad and in Sri Lanka as well as the intricate details of their international operations. The revelations will no doubt be another chapter in Government's achievements.
The INTERPOL red notice on Pathmanathan