JAFFNA – Only a few voters went to the polls in the northern town of Jaffna where elections to the Municipal Council were held yesterday for the first time in 11 years– with election officials saying only 18,336 voters or 18.26 percent of the100,417 eligible voters had cast their ballots.
Chief Elections officer P. Kuganathan said there were no major incidents and noted that final results were due around midnight. Four parties — the ruling UPFA, the TNA (ITAK), the TULF and the UNP — and two independent groups fielded candidates for the 23 seats in the council.
A total of 100,417 people were eligible to vote. They included 5,930 displaced people who were allowed to vote in 15 booths in Puttalam, Anuradhapura,Gampaha, Kalutara and Colombo.
Earlier in the day, responding to charges by EPDP leader and Minister Douglas Devananda that military-issued identity cards were not recognized at the polling booths, Mr. Kuganathan said this was an order from the Elections Commissioner. He had directed that recognition be given only to the identity cards, driving licence, passport, special IDs by the Social Services Department for elders and pensioners, bus season tickets and IDs issued to priests. Election officials were strictly enforcing the ID requirement and every voter was checked.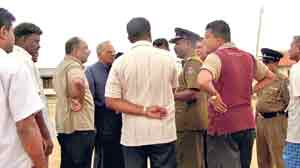 Minister Amir Ali and Deputy Minister Hussain Bhaila seem to be having an argument with police officers outside a Puttalam polling booth where the displaced people of Jaffna cast their votes
EPDP official Chandra Kumar said Mr. Devananda was of the view that the refusal to accept military-issued IDs was wrong because such IDs were issued to displaced people who had lost their national IDs. Military IDs were issued during 1996-97 after government troops ousted the LTTE from the Jaffna peninsula.
"Voting is also poor as most people are not interested," he said. The EPDP led the UPFA's campaign for the Jaffna polls. TNA parliamentarian Suresh Premachandran said they had complained to the police that at around 2.30 pm, groups of about 50 EPDP supporters had gathered outside three schools polling booths in Jaffna.
He said that polling was low mainly because the people were not interested. "If the government was sincere, it should have held elections in the whole Jaffna district which has about 20 local councils," he said. "The poll in Jaffna is apparently meant to show the world that things are settling down in Sri Lanka," he said.
Residents said the UPFA conducted its campaign mainly on providing more jobs and security and the TNA and the TULF on Tamil nationalism and aspirations of the people. These had little or nothing to do with services provided by the Jaffna council.
Of the registered number of voters about 50,000 are physically present in Jaffna with others having moved to areas outside the town or going overseas due to the war. Troops were seen deployed across the region and at many sentry points but soldiers were not placed near polling booths which were guarded by the police yesterday.
This was an election that few people wanted, many residents told the Sunday Times. "People will vote because they want to exercise their franchise but there is little interest. Most of our people are in displaced camps in Vavuniya and Jaffna and this is not the time for an election," said a veteran lawyer, who like many others did not wish to be named.
Outsiders were not allowed into polling stations except for election officials, agents of political parties and poll monitors from PAFFREL and CMEV. Journalists were also barred from entering polling centres while Colombo-based foreign correspondents were not permitted to cover the election.
Election officials said a few minor incidents had been reported upto 3 p.m. but nothings erious to disrupt the polling. During the campaign too, apart from some intimidation of residents attending political rallies, there were only a few incidents of violence reported.
Mr. Devananda's campaign on behalf of the UPFA was by fare the most powerful and prominent largely because of state resources at his disposal including two shiny, black BMWs, the most expensive cars seen on the roads of this war-hit town. His posters and billboards were splashed across the dusty and dry town and at first glance, it appeared that Mr. Devananda was one of the contestants.
The most prominent candidate was veteran politician and TULF leader V. Anandasangaree who led his team of 29 candidates, vying for the 23 seats.
Residents said Mr. Anandasangaree, like other opposition party members, did not appear to have much of a chance as the government threw all its resources into the ring sending top ministers to Jaffna and offering sops, including jobs, and cricket gear from former test captain Arjuna Ranatunga. A well-stocked government food and commodity store – Sathosa - was opened last week in the town while some 3,000 people displaced by the war and living in camps in Jaffna for many months were allowed to return to their homes on Wednesday at a ceremony presided over in Jaffna by senior Presidential Advisor Basil Rajapaksa.
Ironically while pen-torch batteries are banned with passengers on flights to Jaffna being asked to leave these batteries behind during check-in at the Ratmalana airport, hundreds of batteries were sold at the Sathosa store.
"One rule for us and another rule for them (government)," quipped a resident, more amused than annoyed by the anomaly.
UPFA candidate Yoga Patgunarajah cast her vote at the polling centre at St Josephs College at Kolumbuthurai and stressed the importance of the poll. "People are interested and we will win," she said, rejecting residents' claims that only a few people were interested in the polls.
At a home near Jaffna town, a 20-year old youth looked at some posters, and began tearing them up. "This is a waste of our time and their (politician's) money," he said, reflecting the lack of interest in the election.
In a few tea shops, colourful posters were being used productively -- tucked into plastic cups to wipe hands after a meal.