The winner of the Denzil Peiris Young Reporter of the Year (2008) Award at the recently concluded Journalism Awards for Excellence ceremony held by the Editors' Guild of Sri Lanka and the Sri Lanka Press Institute, Isuri Kaviratne of the Sunday Times will leave next month on a five-month study course at MASCOM, the prestigious Journalism School in Kerala, India.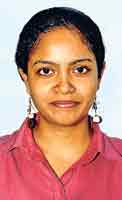 Isuri Kaviratne
MASCOM is managed by the Malayala Manorama Group, one of India's largest selling newspaper houses. She will be under the tutelage of the distinguished Professor Thomas Oommen, who has trained a generation of Indian journalists, first at the Asian College of Journalism in Chennai and now at MASCOM.
The Lakshman Kadirgamar Foundation has provided a scholarship for Ms. Kaviratne to follow this course of study, while the Management of Malayala Manorama has waived the tuition fees in honour of the late Sri Lankan Foreign Minister. SriLankan Airlines is providing the air passage for the young journalist, states a press release issued by the Sri Lanka Press Institute.
Several young Award winners of the annual Journalism Awards for Excellence programme of The Editors' Guild-Sri Lanka Press Institute have previously visited MASCOM, but Ms. Kaviratne will be the first to follow an intensive five-month course in Journalism studies at this institution.
Ms. Kaviratne, a resident of Matara is an undergraduate at the University of Kelaniya (Languages) and holds a Diploma in International Relations from the Bandaranaike Centre for International Studies. She obtained a Distinction pass in the Diploma in Journalism course of the Sri Lanka College of Journalism in 2006.