A fence of galvanised piping put up to protect two ancient rock inscriptions in the Sabaragamuwa province may be doing more harm than good, according to concerned parties.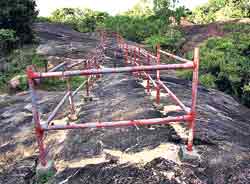 The fence that may not fully serve its purpose. Pic by Hiran Priyankara Jayasinghe
The fence, put up some years ago by the Department of Archaeology, is in need of repair, or may even have to be replaced. The fence, which has deteriorated over the years, has been put in place with cement poured into holes bored into the rock. According to visitors who have examined the rock, the cement has caused a discolouration, giving a reddish tint to the 2,000-year-old inscriptions.
The inscriptions run across the top of the rock. One is 110 feet across, and the other 120 feet wide.
The rock, known as "Thonigala", is in Anamaduwa, about two kilometres from town, on the Puttalam road.
The inscriptions date back to the first century BC to the reign of Mahachuli Maha Tissa, who reigned from 50 BC to 47 BC. The king was the son of King Walagamba, who reigned from 89 BC to 77 BC.
The letters, in an ancient Indian script, are carved about one inch deep into the rock, which is unusual for rock inscriptions, according to officials of the Department of Archaeology.