Legislation to outlaw political parties bearing the identity of a religion or a race will be introduced in Parliament later this month, a senior minister said yesterday.
Minister and Government Chief Whip Dinesh Gunawardena, who chaired a parliamentary select Committee on Electrical Reforms, told the Sunday Times the new draft laws would also for the first time give powers to the Elections Commissioner to de-recognise political parties if they fail to conform to the new law.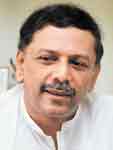 Dinesh Gunawardena
He said registered political parties that carried the name of a religion or race would be required to reapply for recognition within one year of the new law coming into effect and would not be recognized if they did not comply with the law.
The minister said de-recognition of political parties too is a new feature. According to the Elections Commissioner, there are some 60 registered political parties at present but only about 20 are active.
The minister said that under the new legislation any party that did not field even one candidate for two consecutive parliamentary elections would not be given an extension of registration.
The new legislation would also ensure adequate representation for women in political parties. All registered parties would also need to hold an annual general meeting and its audited accounts would need to be published in Sinhala, Tamil and English newspapers. In addition an audited copy of the statement would have to be sent to the Election Commissioner within 60 days after the end of every financial year.
He said a political party would not be treated as a recognised party if its name was identical with that of another recognised party or in the opinion of the Elections Commissioner resembled such a name as to be calculated to mislead, confuse or deceive the people.
The new law would also require the Commissioner to issue, from time to time, a code of conduct to be observed during elections by political parties and candidates.