Irrigation authorities have failed to release water from the Tabbowa tank to hundreds of acres of paddy cultivation at Karuwalagaswewa in Puttalam, worried farmers said.
The farmers from the Pradeepagama Farming Organisation said their fields came under the Tabbowa scheme and they had not received water from the tank for the Yala season although there was plenty of water in the tank.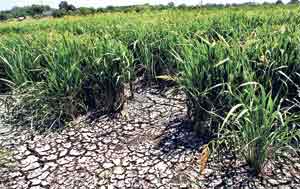 The fields becoming parched due to lack of water
Farmer chief J M Kapurubanda, said they had toiled for months to prepare the field and grow the plants, but now they feared all their labour and investment would be lost because of the officials' failure to release water when harvesting time was approaching.
About 280 acres of paddy have been cultivated by farmers collectively with each farmer looking after an acre.
The farmer chief said he disputed the officials' claim that the tank had no sufficient water. "It has six feet of water and there is a constant flow of water into the tank from a nearby stream too," he said adding that it was great injustice not to release water to the fields.
Another farmer said he gave up a job in Colombo to undertake paddy cultivation as he felt it was more profitable. "It is painful to see the paddy dying because of officials' callousness," he said.
His views were endorsed by his friend who said he had spent more than Rs. 300,000 expecting a good harvest, but now he was worried whether he could at least cover his outlay.
| | |
| --- | --- |
| | |
| Lal Jayasuriya | Kapurubanda |
"The officials should be more kind towards us," he said. However, the Pradeepagama Farming Association President Lal Jayasuriya had a different story. He said the officials gave the farmers advance warning saying there would not be enough water and advised them to grow other crops. But the farmers took the risk and went on to cultivate paddy, he said claiming that the farmers themselves were to be blamed for the situation and not the officials.
Puttalam's Irrigation engineer W J Herath said it was wrong for the farmers to blame them as the farmers were warned not to depend on water from the reservoir. "Since the farmers had taken a risk and gone ahead with the paddy cultivation disregarding our warning, they should not blame us," he said.
The engineer, however, agreed to release water but said it would be a one-time affair.