President Mahinda Rajapaksa urged parents to guide their children to get more involved in extra curricular activities and to make sure they spend some of their time with their children even amidst tiresome and busy schedules.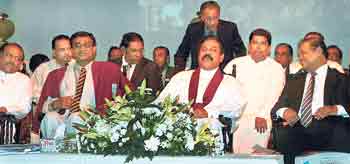 President Rajapaksa appears to be in a happy mood as he watches the proceedings at the prize giving. At his right is the College Principal Upali Gunasekara. At extreme right and left are Ministers Susil Premajayantha and Dinesh Gunawardena.
Addressing the gathering at the 161st prize giving ceremony of Royal College, Colombo held last Friday, President Rajapaksa said children who grow up close to their parents become good citizens.
"As the leader of the country I make sure I spend some time with my children. All parents too should allocate a special time for their children", he said.
"Today Royal College consists of students not only from the upper and middle class but also students from less advantaged backgrounds with the potential of achieving academic excellence. Therefore the products of Royal really understand the traditions and backgrounds of all Sri Lankans," he said.
President Rajapaksa called on parents to take their children during the school holidays at the end of the second term and visit archaeological and nature sites in the country.
B.H.M.M.T. Herath bagged a number of special prizes including the Best Performance at the G.C.E. A/L in Physical Science, Best Performance in Combined Mathematics, Best Performance of a student at the GCE A/L qualifying to enter the Engineering Faculty and for the Scout with the best G.C.E.A/L results.
The President's Prize for General Knowledge on the UN went to E.P.B. Weerasekera and the Lalith Athulathmudali Award for the Most Outstanding Royalist of the year went to F.A.H.M.Fariz.
The event was graced by a number of senior ministers and MPs both from the Government and the Opposition, Presidential Secretary Lalith Weeratunge, Army Commander Maj. Gen. Jagath Jayasuriya and Navy Commander Vice Admiral Thisara Samarasinghe.