This is the squid season, but the squid caught by a Hikkaduwa fisherman is nowhere near the small boneless creature sold in fish markets these days.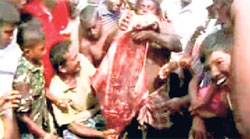 The first time a squid this size was caught in southern waters.
The squid caught at Hikkaduwa was three-and-a-half feet long and weighing 21 kilograms. Fisherman Jeevan Roy caught the squid last week about one kilometre from the shore, using a fishing net laid to catch rays. The squid was alive at the time the fisherman took it out from the net.
"The net was heavy, so I thought I had a big catch. Even though the squid was alive, it wasn't violent and could be handled," said Roy, who goes fishing in his fibre-glass boat.
The squid was reddish in colour. Hikkaduwa fishermen said they had never seen such a big squid before. "It is definitely a squid inhabiting the deep sea," said Prasanna Weerakkody, a marine naturalist who is an expert on Sri Lankan fish.
"Once in a while we get reports of large squid being caught, but most of these reports are from the Batticaloa area," Prasanna said.
This is the first time that such a large specimen was caught in southern waters, he said.