A woman who allegedly carried on a rent-a-car business and eventually sold the vehicles to unsuspecting buyers, without the knowledge of the respective owners by producing false documents of the vehicles, is being hunted down by the Police.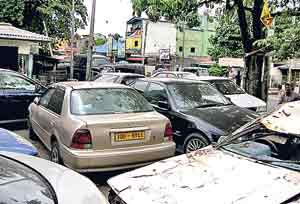 The seized cars at CCD Headquarters in Dematagoda
The modus-operandi of the woman was to publish newspaper advertisements requesting owners to give out their luxury vehicles to be rented out. The woman would pay the rent for the use of their vehicles to the owners for two or three months and thereafter claim that their vehicle had been hijacked.
The woman operated her business from the Mt. Lavinia area and has over 200 complaints against her for allegedly selling the vehicles, but so far the police have tracked down only eight such vehicles, including a BMW.
In one of the latest incidents the woman is reported to have rented out a vehicle of an Army officer and claimed the vehicle had gone missing prompting the Colombo Crime Division (CCD) to carry out an investigation.
At least three employees of the rent-a-car service have been arrested and a search is on for the woman and her husband, CCD officers said.
Some of the victims had rented out more than one of their vehicles, according to the CCD. The CCD has appealed to the public to be cautious about renting out their vehicles saying that the genuineness of the businesses should be checked before renting out vehicles.