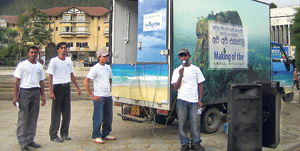 Campaign in progress
A 200 year-old copper Buddha statue weighing over 60 kg is just one of the thousands of items given to Sri Lanka Tourism's (SLT) 'Making of the Small Miracle' Local Activation Programme which was launched in May and concluded this past Friday.
This particular statue was given by a Buddhist monk from Kurunegala during the island-wide programme which asked locals to provide pictures, artifacts, curios, collectables or just anything they believe is a good example of Sri Lanka. The programme is to lead up to the re-branding launch scheduled for June 23, where the thousands of items collected from all over Sri Lanka will be displayed.
In an interview with the Sunday Times FT, Leslie Udunavidane, Sri Lanka Tourism Promotion Bureau (SLTPB)'s Head of Brand/Communication and Market Research said the Local Activation programme has been very successful due to people's willingness to participate. Around 30 cultural centres were selected and the programme was carried out in over 18 to 20 districts, including parts of the East. He said there was a good response from Trincomalee.
It is also part of SLT's strategy to engage with locals in what is most probably the first time in history that an entire nation has been involved in re-launching the domestic tourism industry. SLT also used the programme as a way to create awareness of the different places locals can visit around the country. Mr.Udunavidane pointed out that for example, very few people know there are five different beaches with five different colours of sand stretching between Arugam Bay and Nilaveli.
He said SLT is also gearing up for an international communications campaign with advertisements expected to air on networks such as CNN and Al Jazeera. This will comprise one 60 second spot and three 30 second spots targeting Europe, in particular Britain, the Middle East and India. The 30 second commercials target three different segments of category, he said.
The direction for the international campaign was identified and selected through a focus group study.
Further research and development found that British tourists have the largest spending power and therefore, communication should be aimed at the English market. However, Mr. Udunavidane said advertising is only 20% of any communications campaign and must also include product, infrastructure and human resources development.