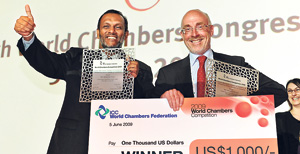 The HDCC, CEO Azim Thassim (on left) and the UK Chamber partner representative at the event
The Hambantota District Chamber of Commerce(HDCC) and its UK partner the Greater Manchester Chamber of Commerce (GMCC) were announced as winners of the Best Networking Project category at the awards presentation of a competition at the 6th World Chamber Congress (WCC) held in Kuala Lumpur last week.
Their post tsunami chamber project beat off strong international competition to win the award, HDCC said in a statement. The competition, organized by the International Chamber of Commerce (ICC) and the World Chambers Federation (WCF), is the only global awards programme to recognize the most innovative projects undertaken by chambers of commerce and industry from around the world.
The 2009 edition of the World Chambers Competition attracted 47 entries from 33 countries, from which 19 finalist projects were selected. The winners were announced at a special ceremony last day of the WCC.
Following the December 2004 tsunami, the Greater Manchester Chamber of Commerce (GMCC) and its service delivery company, Manchester Solutions (MS), took a decision to invest in a programme to support the economic re-development of tsunami-affected areas. Research was carried out in Indonesia and Sri Lanka to find suitable organizations with which a relationship could be built to provide support in re-establishing the business infrastructure of the tsunami-affected areas.
The HDCC was approached, due to the fact that it is a key and well-respected player regionally and nationally in Sri Lanka and is regarded as one of the most advanced district-level chambers in the country. The Hambantota District of Sri Lanka was particularly affected by the tsunami disaster, the HDCC statement said.
Early in 2005, GMCC and HDCC entered into an initial, three-year Partnership Agreement, to work together and share ideas. Richard Guy, Chief Executive of the Manchester Solutions Group said,
"For over four years now we have been working closely on a series of development projects associated with the development of the Hambantota district as well as of HDCC itself. This has included initiatives to support the economic development of Hambantota, to stimulate the local tourism industry, and also to improve HDCC's effectiveness by expanding its job placement services."