With the war coming to an end and war veterans and war victims struggling to return to normalcy, disability campaigners are calling for disability-friendly buildings, to help the transition.
Although the numbers of disabled soldiers, civilians and children have increased due to years of war, Sri Lanka's public buildings are noted for being disabled unfriendly. Essential public services that disabled people are forced to use, like banks, post offices, shops, schools, ministries and even hospitals, are noted for making life unbearable for the disabled."There are millions of people in this country whose mobility is curtailed due to various reasons, including old age and sickness as well as due to physical disabilities.
The worst affected are wheelchair users. The war would have increased the number of wheelchair users by several percentages but our public buildings are not accessible to them," says the Chief Executive of Idiriya, Dr Ajith Perera. Idiriya is a non governmental organisation campaigning for disabled peoples' rights.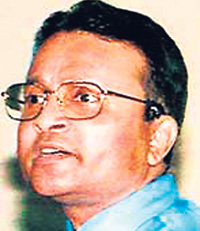 Dr. Ajith Perera
Empowered on paper
Sri Lanka has plenty of laws to safeguard the rights of disabled people but these rights are limited to paper. For instance, by law, public buildings and places, whether private establishments or government owned, should be accessible to the disabled. That is, these buildings should be built in a way that allows disabled people to enter and use these services. But in real life they are built to do the opposite.
"In 1996 an Act of Parliament, Act No 28, was enacted for the promotion and protection of the rights of disabled persons. Clause no. 23 (2) specifically states the importance of establishing facilities to access public buildings and places. A National Policy on Disability came out in 2003. Then in November 2005, regulations to make accessibility to public buildings mandatory by law, under clause 23(2) of the above act, got parliament approval. But the Ministry of Social Services has not been able to implement these laws because of the absence of an enforcement mechanism," says Dr Perera.
Although the government introduces disable people-friendly laws, government establishments, even those providing essential services, are seen as highly insensitive to needs of disabled people.
"There has been hardly anything done in government buildings to help people with curtailed mobility and these government buildings are places providing essential services," says Dr Perera.
"For instance, whether in government or private establishments, steps make it impossible for a wheelchair user to come near the door of a building, let alone enter the building. Then, the doorway may not be wide enough to accommodate a wheelchair and the doors themselves are often not easy to use.
The door handle may not be easy to grasp or the door will require a lot of force to open. Once inside there are various obstacles. The floors are slippery, the lifts cannot accommodate a wheelchair and there are no toilets designed to accommodate a wheelchair," explained Dr Perera.
Instead of conforming to the law, new buildings, government and private, are being built ignoring the requirement to be disabled friendly. The result is more physical barriers to social integration.
"The lack of accessibility becomes a psychological problem not only for the person concerned but also to their friends and families.
To get something done, they need the help of another person. This means another person has to take time off from work to come to help," says Dr Perera.
It's the thought
But building accessible buildings is not seen as extravagant. "If the right measures are incorporated right, at the design stage, the cost incurred will be minimal and adds less than 3% to the cost of construction. Often there is also no need for special or separate designs like ramps.
Furthermore, there are several ways improve accessibility at a nominal cost, even affordable to small businesses. However, the right things must be done right the first time, without any margin for error.
Making, breaking and re-making, only wastes limited assets," says Dr Perera. Becoming more accessible is also good for business.
"A customer gained is a gain and also, becoming more accessible helps the image of the business as a socially responsible institution. We also owe it to our 'Rana viru' populations to allow them to lead normal lives," says Dr Perera. At this point, a sizeable chunk of Sri Lanka's population is experiencing 'curtailed mobility.'
This includes war veterans, war victims and the country's growing aging population. Therefore, accessibility is now a mainstream social requirement and both government and private sector are called upon to make special note of this requirement when constructing buildings.