AirAsia, the leading and largest low-cost carrier in Asia, is launching a Colombo – Kuala Lumpur route, set to begin on August 15. At a media briefing in Colombo this week, AirAsia's Regional Head of Commercial Kathleen Tan said the airline, which has seven hubs, chose the perfect time to launch the route given the low fares the carrier is offering amidst the global economic downturn.
Ms. Tan said the Colombo – Kuala Lumpur route is part of AirAsia's expansion plans for the year. She added that while other airlines are cutting down operations amid financial difficulties in the current economic climate, AirAsia is expanding and registering growth.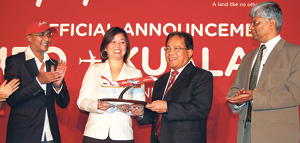 Picture from left -- Bo Lingam, Regional Head of People, Quality and Excellence, AirAsia , Kathleen Tan, Regional Head of Commercial, AirAsia; Rosli Ismail, High Commissioner of Malaysia to Sri Lanka and Bernard Goonetilleke, Chairman of Tourism Sri Lanka.
In the first quarter of 2009, AirAsia's passenger volume grew by 21% year on year to 3.1 million. The new Colombo – Kuala Lumpur route will begin with direct daily flights between the two capital cities. Promotional all-in fares are offered from as low as Rs.4090 one way and exclusively available online via AirAsia's website at www.airasia.com. Booking for promotional seats ends June 14 for travel between August 15, 2009 and April 30, 2010.
Ms. Tan said 75% of the airline's ticket sales are via the Internet, adding that 15,000 tickets had been purchased in the first week of the promotion, most through the Internet. Ms. Tan said Internet usage may not be high in Sri Lanka but the airline has call centres and sales offices and that tickets can be purchased through travel agents in Sri Lanka.
The biggest challenges in launching the route are creating greater awareness on low-cost flying and getting the right to fly, Ms. Tan said. She noted that aviation regulators in Asian governments tend to be more protective of their national carrier.
AirAsia has projected an increase of 24 million passengers for this year along with 200 new Airbus aircrafts. The airline already has a network with 122 routes covering more than 65 destinations which include cities in Australia, India, Taiwan, Vietnam, Cambodia Indonesia, China, Thailand and Bangladesh. In seven years of operation, AirAsia has carried over 65 million passengers.
Its low cost long-haul affiliate carrier, AirAsia X, currently flies to destinations in China, Taiwan, Australia and the UK. The airline was co-founded by Malaysian entrepreneur Tony Fernandes. Ms. Tan said the low fares AirAsia is offering will create new demand and stimulate travel. AirAsia's entry into Sri Lanka is good timing as the country enters a new era of peace. "We are working closely with Sri Lanka Tourism to boost the market because low fares will allow more people to travel," she said.
Ms. Tan said several media outlets from the Asian region will cover the August 15 launch and that Malaysian television crews have been here this week to cover the press conference and gather promotional material. The AirAsia website has a page on Sri Lanka containing information on hotels as well. Ms. Tan added that a few hundred hotel rooms in Sri Lanka have been booked as well. She also brought a team to Sri Lanka to meet hotel management.