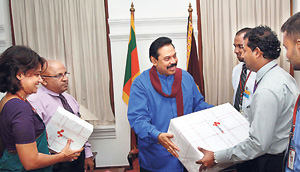 Pictured here is a token presentation to President Mahinda Rajapaksa by the Group's CSR team led by Ms Anusha Alles (extreme left), Head of CSR at Brandix.
Brandix donated clothing to the value of Rs. 20 million and an estimated Rs. 2.5 million worth of relief items collected by the Group's employees to internally displaced persons in camps in the north, a press release from the apparel exporter said.
The donation was presented to President Mahinda Rajapakse at Temple Trees recently. A team from the Brandix Group's CSR Unit also visited IDP camps at Menik Farm in Chettikulam and at Padaviya and distributed water tanks, water bottles, food, dry rations and garments among the displaced persons.