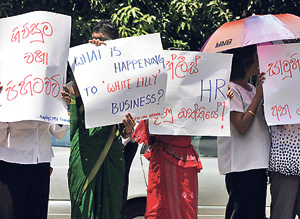 Hayleys Ltd has written to The Sunday Times FT saying the caption story in a photograph headlined 'Staff of Hayleys Group attached to the Ceylon Mercantile Union' published in this section last week is inaccurate.
The story said that workers were carrying out a protest over the non-implementation of an earlier agreement with the union. Hayleys says on April 1, 2009 six companies in the group decided to repudiate the Collective Agreement of 2004 under Clause 2 of the agreement which entitled either party to repudiate the agreement after 30th November 2006, with one month's notice.
"At the same time, seven other Hayleys Group companies repudiated previous EFC/CMU Collective Agreements they had been signatories to. The Group has clearly conveyed to the CMU its commitment to uphold the spirit of collective bargaining and its willingness to negotiate a new Collective Agreement in respect of the relevant employees," the letter said.