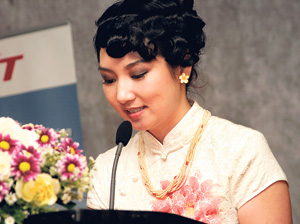 One of the participants speaking at the event
Shenzhen HYT Science & Technology Co Ltd (HYT) from China, providers of radio communications equipment, recently conducted a seminar in Colombo to explain how this equipment is maintained and upgraded.
HYT says it's a top seller of radio communication equipment and sales in Sri Lanka are through Dynatec (Pvt) Ltd. Yong Hai Bo, Sales Engineer, HYT conducted the seminar and said their products are unique and apart from being the number one radio communications equipment provider, they also supply to many other countries like the US, most of the Middle East region, Russian Government, Poland Police, Pakistan, Bangladesh and many other countries and institutions.
In Sri Lanka, the Air Force, Ports Authority and Police are using HYT communications equipment. High ranking officers of the three Sri Lankan armed forces, officials from the Ports Authority, Fire Brigade and other government authorities were present. Sq Ldr P. L. I. Fernando, Business Manager, Dynatec said they are getting many new inquiries about HYT communications equipment.